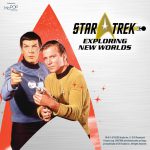 For the 50th anniversary of Star Trek, the long-running series of television shows, movies, and more, the Museum of Pop Culture (MoPop) in Seattle, WA opened an exhibit chronicling the show, it's cultural impact, and how it has been inspirational to so many people over the years. This exhibit, called "Star Trek: Exploring New Worlds," which featured screen-used set pieces, costumes, props, and models, as well as interactive exhibits, examples of how Star Trek has influenced the real world. It ran at the museum from May 21st of 2016 to May 28th of 2018, before closing down and becoming a travelling exhibit.
And guess where the first stop is?
The Children's Museum of Indianapolis!
TCM Indy announced today, with a teaser in Klingon yesterday, that they will be the first stop of this really cool exhibit! It will be beaming in to Indianapolis on February 2nd of 2019, and will be sticking around under April 7th. This is only going to be a few short months, before it moves on! This will be the travelling version of the exhibit in Seattle, and will feature morethan 100 pieces from the series, the various spin-offs, and films! Some highlights include:
The Navigation Console from the Original Series
Original Series Captain's Chair Replica for Photo Ops
Original costumes from Kirk, Spock, Uhura, and McCoy
Filming models
SO MANY PROPS AND ARTIFACTS, FRIENDS!!!
Ahem.
Pardon me if I'm really excited, but as most of you know, Star Trek was my first real fandom, the first thing I REALLY Geeked out about, back in 1991. To have all of this coming to a fantastic museum, located in my backyard, is just mind-boggling! So, we're getting an exhibit that not only shows off pieces from the show's 50+ year history, but we're also seeing how it has affected the world around us, plus we'll be getting some great photo ops! I'm really, really excited about this!
Keep an eye on the blog as we get closer, for more information!
LLAP!
Tony