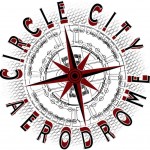 It seems that the past few Thursday's have been focused on costuming. Not really my intent, but I'm going to roll with it, especially when I have something good to say on it! Even having worked on costuming for years, there is still a lot that I want to learn. So, when I learned that members of Circle City Aerodrome were holding a workshop concerning Steampunk Costuming on a Thrift Store Budget, I was very interested. Sure, I don't do Steampunk costuming, as I'm used to seeing it being done "poorly" (more on that, later) at conventions, and it's never struck me as something I'd be into. However, after listening to Madame Bella Breeze and Kat Alyst speak about their hobby, I do believe this is something I'd like to look into, after I'm done with my current round of projects.
First things first, though, and that's the question of what Steampunk is? To many people, it's the idea that you take some old stuff, some Nerf guns, throw a  few gears on it, and you're good. Another school of thought, voiced by Bella during the workshop, is that "Steampunk is what you get when Goths discover brown", which I found fantastic (It's a joke, though! Not serious!) . In seriousness, Steampunk is "retro futurism". It's taking a Victorian aesthetic, with their clothing, and giving it a "futuristic" flair, with the way they would have viewed the future. Great examples of this are the works of Jules Verne, the train from the end of Back to the Future 3, or even the webcomic Girl Genius. Now, these are just three examples off the top of my head, so I know someone with much more knowledge can give better information. I'm just speaking from one beginner to another. If you're looking for better information, then I would point you to the CCA.
The CCA is Circle City Aerodrome, our local group of Steampunk costumers. Their goal is to promote an understanding and participation in Steampunk arts and culture in Indiana. They do costume workshops, "Steampunk Second Sundays" at the Red Lion Grog House in Fountain Square, an immersion weekend at the Columbia Club in downtown Indianapolis, as well as other events. They strive to help you be the best you can be, helping you make a costume that tells a story, and isn't just a top hat with a gear on it. However, they also realize that it's a game of grown-ups playing dress up. It's all make believe, so there's not really a wrong way to do it.
If Steampunk looks to be your thing, I strongly recommend visiting the Circle City Aerodrome at their website. You can also find them on Twitter, or on Facebook. Information on their next big event, the "Steampunk Through the Looking Glass" immersion weekend, can be found at the event website.
If this all looks interesting, come back next Thursday as I will have my notes straightened out, my references checked and double checked, and my links good to go as I attempt to impart upon you the information that was imparted upon me!
Tony