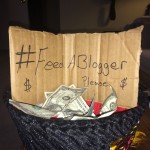 When I first started Geeking in Indiana, funding was rather easy. Blogger didn't cost anything, and while I didn't have a ton of money, I was able to cover parking, when I got press passes to shows like Gen Con. However, over the years, it's gotten more difficult. Real-life expenses take up almost my entire budget, and the blog has started needing it's own budget, what with Dropbox fees, podcast hosting fees, and other costs starting to be monthly blog expenses. Plus, I have equipment I need, paperwork to file, and just a lot of nickel and dime-type stuff that I just can't afford.
Over the last few years, I've put together a few different methods where you can help, financially. You can shop through affiliate links, you can donate directly through PayPal or Ko-fi, and you can even buy Geeking in Indiana merchandise! So, here are all the different ways you can help, if you so desire!
Shop Geeking in Indiana
Geeking in Indiana Shop – This is my self-hosted storefront, selling my pins, fidget spinners, and more (as I get it put up). Help me get this stuff out of my house, and into your collection!
TeePublic Shop – T-shirts, phone cases, and more can be found on this popular Print on Demand site! They just seem to have the best prices, most discount codes, and the shirts I've purchased from Obsessive Viewer (link) have held up pretty well!
Affiliates and Donations
Amazon Affiliate – From books, to movies, to toilet paper, almost everyone uses Amazon at one time or another. If you go through this link, then you'll be helping the blog!
PayPal Donations – I have had friends ask me how to make a one-time donation to the blog! If this is your cup of tea, then check the "Donate" button on the sidebar!
Ko-fi – Buy me a "coffee"! According to EA Games, everyone loves micro-transactions, so here's the opportunity to help me! A $3 donation, about the price of a cup of coffee, will help me towards my equipment goals. Check the page for the current goal!
Patreon – Wanna give me a monthly donation? Just a buck a month gets you weekly rundowns of my blog posts, five bucks a month gets you a shout-out on the podcast, and a twenty a month gets you a podcast sponsorship! Check it out!
Also, on occasion, Team Geeking writes a post that is solely based on Affiliate Links. Many of these posts are years old, with outdated links, but as I get them updated (digging through close to 700 posts takes a while!), I'll list them here with the date it was updated. I'm also going to let them going from the most recent to the oldest, as some of the older ones just have too many items that are no longer available.
Geek Living: Geek Cave 4.0 – Published 8/20/2015, updated 8/12/2016! Tony talks about plans for the new Geek Cave, and home items that would fit well in either his or yours.
Geek Living: The Great Outdoors – Published 3/19/2015, updated 8/12/2016! One can not spend all of their time in front of a computer, and Tony realizes this! Here's how a Geek can Geek out in the great outdoors.
'Tis the Season: For the Aspiring Blogger – Published 12/05/2014, updated 8/12/2016! Tony has learned a bit since then, but this is still some good advice for starting equipment for a blogger!
'Tis the Season: For the Cosplayer – Published 11/20/2014, updated 8/12/2016! Tony lists off some of the basic items you need to get into costume and prop replication!
Geek Living: The Geeky Kitchen – Published 8/6/2014, updated 8/12/2016! Tony enjoys spending time in the kitchen, so of course he's going to let his Geekdom be shown there!
Geek Living: The Doctor Who Bathroom – Published 7/31/2014, updated 8/12/2016! While all the blue might make it actually seem smaller on the inside, Tony takes a look at how to Tardis out your bathroom!
Wish List for the Geeky Baker – Published 5/16/2014, updated 8/12/2016! Michelle is a Geek who loves baking! Check out some of the things she would love to assist with that, and check the bottom of the page for her cupcake blog!
Gift Ideas: For the Superhero Geek – Published 12/13/2013, updated 05/31/2016! Michelle and Tony give you gift ideas for the Superhero fan in your life! No publisher wars, just some spiffy stuff!
Gift Ideas: For the Geekling – Published 12/12/2013, updated 8/10/2016! Tony gives you some gift ideas for that wee Geekling in your life!
If you do all of these, or if you do none, it's okay. I appreciate folks reading the stuff that I, along with Team Geeking, put out. Thank you all for your help!