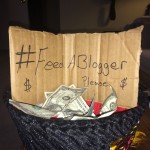 When I first started Geeking in Indiana, funding was rather easy. Blogger didn't cost anything, and while I didn't have a ton of money, I was able to cover parking, when I got press passes to shows like Gen Con. However, over the years, it's gotten more difficult. Real-life expenses take up almost my entire budget, and the blog has started needing it's own budget, what with Dropbox fees, podcast hosting fees, and other costs starting to be monthly blog expenses. Plus, I have equipment I need, paperwork to file, and just a lot of nickel and dime-type stuff that I just can't afford.
Over the last few years, I've put together a few different methods where you can help, financially. You can shop through affiliate links, you can donate directly through PayPal or Ko-fi, and you can even buy Geeking in Indiana merchandise! So, here are all the different ways you can help, if you so desire!
First, though? Where does the money go? Beginning in 2019, I'm starting to put the year's rough budget and plans in blog posts.
Where Does The Money Go?
Where Has The Money Went?
Shop Geeking in Indiana
Affiliates and Donations
Also, on occasion, Team Geeking writes a post that is solely based on Affiliate Links. Many of these posts are years old, with outdated links, but as I get them updated (digging through close to 700 posts takes a while!), I'll list them here with the date it was updated. I'm also going to let them going from the most recent to the oldest, as some of the older ones just have too many items that are no longer available.
If you do all of these, or if you do none, it's okay. I appreciate folks reading the stuff that I, along with Team Geeking, put out. Thank you all for your help!