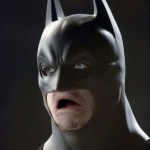 Today was going to be a Follow Friday, or even a post about Gen Con, but there was a little bit of news that was posted last night, by Variety, concerning Zack Snyder's upcoming sequel to the Man of Steel, which is also supposed to feature an older, more experienced Batman, who for the last three films had been played wonderfully by Christian Bale. For those who don't want to click the link, or were actually enjoying life off the internet last night, there were two important tidbits in that article. First, was the release date of the Superman/Batman film: July 17th, 2015. Second, was the casting for Batman. This bit of news infuriated the internet, as, well, any casting news concerning Batman has the tendency to do. I admit that it elicited a "wat" comment from me, I don't believe it's any worse than Batsuit nipples, black light paint, neon Batmobiles, or Tommy Lee Jones as Two-Face, but I digress. And who was that choice to fill the role of the older and wiser Dark Knight?

Ben Affleck.
This has caused so many people to rip their hair out, gnash their teeth, and consistently spell "role" as "roll" in saying that he never should have been given the role. There truly is no rage like Nerd Rage, and it was shown tonight all through my Twitter Feed and my Facebook timeline. In fact, my last hour at work this evening was my making "BatFleck" jokes and comments on Twitter. Seriously, I have had friends and family members posting such things as "they have died a little inside" or bemoaning the fact Bale turned down a $50 million dollar payday.
However, much like my feelings on the Disney acquisition of Lucasfilm, I remain cautiously optimistic. Ben Affleck has grown as an actor and director over the years. No longer is this the man bragging about screwing someone's girlfriend in a very uncomfortable place, like the back of a Volkswagen. This is not Daredevil. No, this is a man who has grown, matured, and would probably kill to play the part of the Dark Knight. I am willing to give this a chance, even under Zack Snyder's direction.
Let us not forget the uproar when Chris Evans was chosen as Captain America. Heck, his part in the Fantastic Four was much more fresh in our minds than Daredevil is, and I think he did a fantastic job in The First Avenger and Avengers. How about when Robert Downy Jr. was chosen as Tony Stark/Iron Man? That was an inspired piece of casting! Geez, what if the Internet had been around when the 1989 Batman film came out? Could you imagine the uproar when Michael Keaton was cast?
Also, let's not hate on BatFleck too much. We know the guy likes a good comic book. Say you're a reasonably successful actor in Hollywood, that has a love for this sort of thing. If a casting director asked you if you wanted to put on the cowl, this is like some ancient Sumerian god asking you if you're a god: You say YES. This is not open to discussion.
However, who am I? I'm not Hollywood. I'm not the one who knows what they're doing. I'm a simple Geek with a keyboard and a Blogger account, spouting off my opinion that is no more or less valid than yours. However, I do know that life is too short to go around hating on something as trivial as the casting of a movie, so I'm just going to use it as a free blog post, roll with the casting punches, and keep up hope.
Why not?
He was the bomb in "Phantoms," yo.
Tony