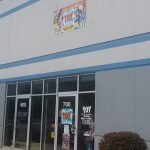 I enjoy a good toy store. I love digging around, looking through the shelves, pegs, and occasionally bins when I'm on the hunt for a certain action figure, or toy ship, or Funko Pop. I love seeing the variety, I love the nostalgia when I see something I had when I was a child, and I love talking toys with the employees. Indianapolis is home to a handful of these shops, and the one I'm going to talk about today is on the north side, off I-69 and 96th Street, tucked away behind the Aldi and Goodwill, by the Home Depot. Back in a little industrial-looking strip, near my friends at Books & Brews, is The Toy Pit.
Walking into the store is an interesting experience. It is organization, bleeding into chaos. They have toys everywhere, and they are grouped by licenses. They have a Star Wars section, a Star Trek section, a video game section, a Doctor Who section, a GI Joe section… you name it, they have a section for it. And each section is overflowing with cool things. Peg hooks are full of carded and/or bagged figures, shelves are full of items in the box, display cases and packed to the gills with cool items, and there are totes along the walls, with loose figures, overflow figures in boxes, and both complete and part vehicles from GI Joe, Transformers, and more. It is simply fantastic how much they have in here, both new in box as well as loose.
Not only does the Toy Pit have a good selection of fun stuff, they also have a great staff. I've been in here multiple times since they started setting up, and every visit has been a fantastic visit. I've hung out as they have talked with customers, and walked in as they've been working on buying collections, and every time I've seen them, they've been friendly, helpful, and knowledgeable. They know what they have in the shop, and they can help you find it, and then they will give you a fair price for it. They will also look at your collection, tell you what they can and can not use, and give you a fair deal for that, as well.
The Toy Pit is a fun place to visit, both for kids looking for toys, and adults looking for nostalgia. Here's what you need to know, and a few pictures I took on my most recent visit!
Who are they? The Toy Pit
Where are they? 9402 Uptown Drive Suite 700 Indianapolis, IN 46256
What are they? A friendly local toy shop, buying and selling all manner of toys.
When are they open? Monday through Saturday, 11:00 AM to 6:00 PM, closed Sunday
What is their phone number, in case I get lost and need directions? 317.703.8697
Just kidding on the phone number! Internet! Where are they online? You can visit their website, follow them on Twitter, check them out on Facebook, and see all their cool pics on Instagram!
What is their parking situation? They are in a business park/strip mall, with a parking lot by their entrance.
This slideshow requires JavaScript.
Go, check them out, and tell them Geeking in Indiana sent you!
Tony