Disclaimer: This post is chock full of links to posts for Affiliate links. If something is bought using those links, chances are this blog will receive a small commission from an advertising company. This small commission will hopefully build up over the season, and will be used for improvements to the blog, and hopefully, maybe someday, as a legitimate source of income so I can focus on this fun stuff full time!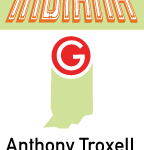 'Tis the season, folks. It's that time of year to get gifts for your loved ones, your co-workers, your family, and your game shop owner. Here at Geeking in Indiana, we spend a lot of time online, and in doing so, we find a lot of neat items that you might not be aware of. This post is to group together all of these past posts, so you can reference them if you need to. Some of these have been put together by Tony, where others have been done by Michelle, or other guest bloggers. Credit is given where credit is due, however, so fear not!
I will be updating this list throughout the season, starting with next week's Gift Idea list, but for now, here are some past posts that have been done! Please note, items with a strikethrough through them are no longer available.
Geek Gift Guides Holiday 2014
General Lists 2014
Christmas 2013