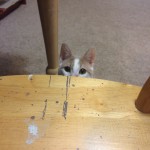 Welcome to Tuesday, my friends! I hope everybody had a great weekend, and this week is starting out well for you! I had a great time on Saturday, spending the morning at eBash for my nephew's birthday party, and then heading over to Muncie for the Erik Burnham signing at Aw Yeah Comics. Sunday was spent, relaxing at home, and working on homework, and last night was spent prepping for a speech that I'm giving tonight in my Intro to Public Speaking course. This week is going to be busy with class, and editing some audio for a new Podcast episode on Friday the 15th! This coming weekend will be a stay-at-home weekend, and I'm planning on trying to get that Reliant video I keep talking about doing shot on Saturday, to be put up sometime next week! However, we all know what they say about the best laid plans, right?
So, without any further ado, let's dive in to this great grab bag of Geekery!
The month of April, we are in you!
April 15th & 16th: Pop! Con Evansville! Not affiliated with Indy Pop Con, this is a fan run show down in Evansville! This is good fun for anyone in the southern part of the state, so check it out!
April 23rd: Aw Yeah Comics Mini-Con! From 11AM to 6PM, visit Aw Yeah Comics in Muncie for their first mini convention! Head on over and meet local talent, check out a panel, and there might even be food! Follow the Facebook Event Page for more information!
April 29th – May 1st: Indiana Comic Con.
Now, let's look ahead to the month of May!
May 3rd: Indiana Presidential Primary! Don't just vent on Facebook or Twitter! Go frakkin' vote!
May 4th: Popular Culture says it's Star Wars Day. Look for more info as this gets closer!
May 7th: Free Comic Book Day! Look for more info as this gets closer!
May 8th: Geek Mania 2016! Held at Central Middle School in Columbus, IN, this is a senior project to benefit Columbus Signature Academy's library. There will be vendors, a costume contest, and a video game competition. Click the link for more details!
May 22nd – Yogi's Vintage Toy & DieCast Show! Held at the Hamilton County 4-H Fairgrounds in Noblesville, this looks to be a pretty cool show, if you're into toy collecting! Visit the website for a coupon worth $1 off show admission.
May 23rd – Tony's Birthday! Marking my final year in my thirties.
Now, let's look at some of the more Geeky exhibits being offered by Hoosier Museums!
At the Children's Museum of Indianapolis, they are hosting the Alien World and Androids exhibit! This exhibit is here only for a short time, so get the info on their website, and visit before it moves to another part of the galaxy on May 1st!
At the Indiana State Museum, as part of their Hoosier Bicentennial Celebration, they are hosting the Celebration Arcade, which is a pop-up arcade archive with retro and current games spanning over three decades. Check it out before the exhibit ends on May 1st, 2016!
Hey! We have some Kickstarter campaigns to list! Remember, I don't necessarily endorse these, I just know they are Hoosier-based campaigns, of a Geeky interest, and I want you all to look into them, and make your own decisions!
Finally, what's happening with the blog?
Picture of the week: After a night of writing blog posts, researching a speech for class, and doing homework, Reiki is wondering when I'm getting off the computer and going to bed.
As some of you might know, my birthday is approaching. Every year, I put up an Amazon Wish List of stuff, and occasionally, someone buys something from it. Many of those people have been put up on the "Awesome Supporters" page. This year, the list I'm putting up is nothing but things I would like for the blog, like microphones for interviewing, computer parts, and consumables. If you'd like to help, here's a link to the Amazon Wish List. Just like any other method of assisting the blog, this is not expected, but it is greatly appreciated!
Are you shopping on Amazon? If so, please use the handy affiliate banner at the top of the blog. It's the only income I really get for this thing, and I need to be able to keep paying the expenses for it, like Podcast hosting, Dropbox fees, and so on. Last month didn't hit the "Give the Geek the money" threshold, so I'd appreciate any and all help you could give to make sure I can pay the bills in a few months!
Do you like how the blog looks? If you ever look at the bottom of any of the pages, you can see this is in huge part to Spencer Sokol over at Studio 27 Indy, and Aric Harris of TikiKitchen Design. They are both great and talented individuals who help keep the blog running, and looking professional. If you're looking for any sort of web work, I highly recommend either (or both!) of those gentlemen.
That's all for this week! If you have anything to add, don't be afraid to let me know!
Tony