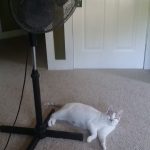 Happy Tuesday, my friends! It seems that, as of late, this is all that I've been doing on here! That's because the month of May has been a heck of a lot busier than I thought it was going to be! However, I've got a bit of downtime this week, so I'm hoping to get something up on Thursday or Friday, including a brief podcast and a Periscope that I'll record on Thursday night. However, this evening is my birthday, so I'm going to jump off of here, get some cake, and play some Fallout 4 until I'm ready to pass out. Because THAT is what 39 is like, my friends!
Let's look to the rest of the month of May!
Next, we look to June!
Hey! We have some Kickstarter campaigns to list! Remember, I don't necessarily endorse these, I just know they are Hoosier-based campaigns, of a Geeky interest, and I want you all to look into them, and make your own decisions!
Finally, what's happening with the blog?
That's all for this week! If you have anything to add, don't be afraid to let me know!
Tony