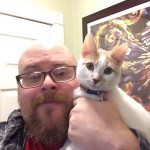 Happy Tuesday, my friends! Here we are, on the final day of May. This is the point where I take a deep breath before diving head first into summer. Starting next Tuesday, I'll be taking my summer course on Tuesday and Thursday, and my summer convention season starts hitting with Indy Pop Con on the 17th. I spoke with members of Team Geeking on Saturday, starting to lay out plans, and I'm planning on really hitting the promo posts hard over the next few weeks. In addition, I'm evaluating my free time, to try to put more work into the blog, and start putting more content up again. Starting next Monday, I'll be back on the Star Trek viewing and writing kick, the first Monday of every month, and I know Grant is getting back on writing Media Monday, as well. So, let's do this thing!
First, we look to June!
Now, what's happening in July!
Hey! We have some Kickstarter campaigns to list! Remember, I don't necessarily endorse these, I just know they are Hoosier-based campaigns, of a Geeky interest, and I want you all to look into them, and make your own decisions!
Finally, what's happening with the blog?
Picture of the week: Throwback pic: The Head Geek and his Geek Cat buddy.
On last week's podcast, I did something new and fun. I asked Twitter for a topic that I could speak five minutes on. Not only did American Cartoonist Kyle Latino give me a subject, but he also gave me his own five minutes, which I think made for an interesting 'cast. So, I'm throwing this out there to everyone: Do you have something Geeky you'd like me to talk about for five minutes? Bonus points if you'd like to put your own five minutes in! Let me know, and we can work it out!
It looks like I'm tabling at my first convention this summer! That's right, I was invited to set up a Fan Table at InConJunction this year, and I'm seeing if they would like to run an Awkward Twitter Mingle, as well! In addition, I'm also going to be a guest at Teen Con 2016 in New Castle, held by the New Castle Henry County Public Library. I'm figuring, I'm going to have handouts with information on starting a blog, as well as business cards. I'm also looking into my budget, to see if I can order buttons or stickers. What would YOU expect to see at a Geeking in Indiana table? Please, let me know!
#FeedABlogger – Never required, but always appreciated! There are three ways you can financially help Geeking in Indiana: using the Amazon Affiliate Link when you are shopping on Amazon, donating using the Paypal link, or buying an item off the Amazon Wish List. Unless otherwise requested, all supporters that I can track (aka, those donating or shopping the wish list) will be listed on the Awesome Supporters page.
The month of May has proven to be even busier than the months I was working in school!
Do you like how the blog looks? If you ever look at the bottom of any of the pages, you can see this is in huge part to Spencer Sokol over at Studio 27 Indy, and Aric Harris of TikiKitchen Design. They are both great and talented individuals who help keep the blog running, and looking professional. If you're looking for any sort of web work, I highly recommend either (or both!) of those gentlemen.
That's all for this week! If you have anything to add, don't be afraid to let me know!
Tony