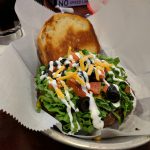 Happy Tuesday, my friends! What a crazy weekend, right? Seventy degrees on Friday, then thunderstorms, then snow on Saturday morning! Now, it's supposed to be back up into the mid-sixties? Wild, right? So, other than that craziness, it's been a hectic weekend. Shadows of Brimstone with friends on Friday, writing on Saturday, and a birthday party on Sunday that involved me running a D&D adventure for the first time in years. This was completely unexpected, and has set me behind just a bit on some goals for the end of this month, as well as my goals for the start of the podcast, but we shall push forward!
This week, I'm hoping for a calm week, filled with the training of analysts at work during the day, and burying myself in blogging, podcasting, and learning Adobe Creative Cloud at night. Speaking of which, if anyone has any advice on resources for Premiere and Photoshop, for someone who knows ABSOLUTELY NOTHING about the, please let me know!
Now, let's see what's happening for Hoosier Geeks!
Starting tomorrow, we're in March:
Rolling from March to April:
Now, what's happening with the blog, the blogger, and friends of the blog?
That's it for this week, as we roll our way through 2017! I'll see you all tomorrow!
Tony