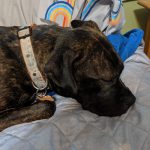 Happy Tuesday, my friends! We are back with another installment of Tuesday Tidbits, where I try to track down events that I think would be of interest to you, my fellow Geeks here in Indiana! Plus, cute Geek Pet pictures!
It's been another full weekend at the Geek Cave, with a wedding on Saturday (Congrats to Dean and Basil!), and then a podcast interview on Sunday. Plus, we're starting the process to swap out the master bedroom with the office, so my work area is currently at the end of the dining room table, which is messing with me a LOT more than I thought it would! However, I'm still doing my best to focus on my work, and then get to work on stuff for the blog, tweaking the 3D Printer, and finishing the final bits of that X-Wing Costume that I need to do the final write-up on, but I'm not 100% done with, yet. So, that's coming in the next few weeks!
Speaking of the next few weeks, we're not just looking ahead to those, but also to June and July! We're also looking at a silly GoFundMe that started as a joke about Kickstarter, but then became a "Why not?" sort of thing this past weekend!
So, what's happening for Hoosier Geeks?
May has raced in!
What's happening in June?
Let's also look ahead to July!
Now, what's happening with the blog, the blogger, and friends of the blog?
Am I missing anything? Use one of those contact links to give me a shout! Have a great week, and I'll see you later!