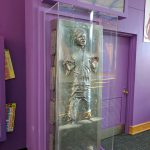 Happy Tuesday, my friends! I hope you all had a great, relatively dry weekend! Mine was spent taking care of more stuff for Indy PopCon, writing, doing yard work, and realizing I am probably in the worst shape of my life, which meant I also ate a lot of pizza and Chinese food, because why not? I'll start back on strict calorie counting, walking at work, and exercising this week.
Speaking of this week, with 17 days to Indy PopCon, I'm starting to go into, "Oh gawd, I'm just a blogger with a sporadic podcast! What was I thinking?" mode, as I follow up with merch people, make sure the equipment I have is in working order, and keep checking, double checking, and triple checking my list on Evernote (BATTERIES! NEED BATTERIES!). However, I still have a couple of weeks, so I haven't started hyperventilating. Yet.
Now, let's see what's happening in the state for Geeks!
Looking at the month of June:
June 23rd: Mario Marathon! Based out of Indiana, this charity stream for Child's Play involves all the Mario! Check out their live stream starting at 11:00 AM, give a bit, and participate in the discussion and their contests! It's for a good cause!
June 25th: Benefit Concert for Libby's Fight! Libby is a child battling cancer, and this is a show featuring The Shake Ups and Rejoice at Bent Rail Brewery in Indianapolis from 2:00 PM to 5:00 PM. Admission is free, attendees are eligible for door prizes, and suggested donations can be made to the Go Fund Me campaign at this link!
June 30th: The Yavin 4 Imperial Entanglements CD Release! The Yavin 4, a local Star Wars-based band, will be releasing their new album at Radio Radio! Joined by fellow sci-fi bands Five Year Mission (Indianapolis) and Landspeeder (Chicago), this looks to be another fantastic night of Geeky entertainment at Radio Radio! Visit the link for the Facebook event page, and more information!
Transitioning from June to July, we have a couple of events:
June 30th – July 2nd: InConJunction XXXVII! The 37th incarnation of this fan-run convention is on its way! Come have a good time with fellow Geeks in this show filled with long-time Hoosier fans, nerds, and Geeks!
June 30th – July 2nd: Days of the Dead! It's a horror show, literally! This horror convention is back, with a large list of horror actors and wrestlers! Click the link for more details!
Ahead to July!
Now, what's happening with the blog, the blogger, and friends of the blog?
This Week's Photo: Just a Han Solo in carbonite at the entrance to the Children's Museum's newest exhibit. No big deal.
Nerd's Domain has been burgled! Matt Quiett of the Nerd's Domain family of podcasts had his house broken into, and lost a lot of equipment! Can you help a fellow Hoosier Geek Media maker get back on his feet? Every little bit helps!
Help White Flag Games Expand! White Flag Games in Mooresville is looking to move to better digs, and expand their business to include Escape Rooms! You might have seen my FLS Friday post about them last year (link), and if you did you know I think they're a pretty cool group, and their shop is a great asset to their area. So, if you would like to take a look, and take a peek at their supporter levels, I know it would be appreciated by all!
Indy Pop Con 2017: Two exciting pieces of news this week! First, the Awkward Twitter Mingle "panel" has been approved by Indy PopCon and will be making its return this year! Hosted by the holder of the second best Twitter account, as voted by readers of Nuvo Magazine in 2015 and 2016, it's an interesting way to meet your fellow Tweeters! Visit the Facebook Event Page for more information, or the actual Panel Page on Indy PopCon's website! Second, make a note, because Geeking in Indiana has a booth number! We will be in with the rest of the People of the Internet, at table 1254! Woo hoo, it's happening!
Do you like how the blog looks? Then check out Studio 27 Indy and TikiKitchen Design. I just write this stuff. They're the ones that make me look good.
Support the Blog: So far, I have podcast hosting, Dropbox, and Adobe Creative Cloud (student subscription, I'm not THAT rich!) covered, thanks to friendly awesome supporters! However, I could still use help, to make sure I have enough for domain name hosting, equipment improvements, and convention tables!
That's it for this week, as we roll our way through 2017! I'll see you all tomorrow!
Tony