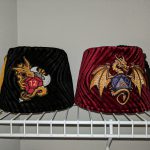 Happy Tuesday, my friends! I trust we all had a relaxing weekend, perhaps relaxing at home, binge watching The Defenders on Netflix? Perhaps you were able to hit the Ash Comic Show on Sunday? Or were you hanging out downtown with a metric sith-ton of gamers from Thursday through Sunday? Well, whatever you were doing, I hope it was fantastic!
Now, I know some people view Gen Con as the end of the local con season, but I think we all know that it's never really over! Heck, this coming weekend, we have a Disney Meet Up, and a toy show! In September, we have four conventions that I'm aware of, and October, of course, has KokomoCon! Plus, though we aren't there yet on the Tidbits, November is always host to Starbase Indy on Thanksgiving Weekend! So, there's still plenty of Geeky things to do! Speaking of which, what's on the calendar?
August still has fun to offer!
Looking ahead to September!
October will be here sooner than you think!
Now, what's happening with the blog, the blogger, and friends of the blog?
That's it for this week, as we roll our way through 2017! I'll see you all tomorrow!
Tony