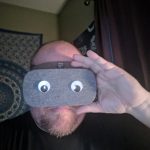 Happy Tuesday, dear readers! We are back with another heaping helping of Hoosier happenings! With August drawing to a close, we are looking at starting to wrap up 2017. I've already started on the 2018 convention listing, which will go live in October, and I've already starting to figure out where the blog is going next year, since I have a lot of stuff I want to do, I don't have time to get it all done, and I'm not getting any younger! However, that's too far into the future, so let's draw it back in a bit, and look at what's coming up the next few months!
Oh, and before I forget, don't forget to check the Blog News section at the bottom of the page, because nominations are open for Nuvo's "Best of Indy", which has been a running gag for me for the last few years. Can I be the second best Twitter feed for THREE years in a row? Read that block of text to see how you can help, as well as some of the folks I'd love to see on that ballot!
Looking ahead to September!
October will be here sooner than you think!
Now, what's happening with the blog, the blogger, and friends of the blog?
That's it for this week, as we roll our way through 2017! I'll see you all tomorrow!
Tony