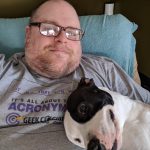 Happy Tuesday, my friends! It's your favorite Geek slacker, back with another week of Tuesday Tidbits! This week is going to be a good week, with content other than Tuesday Tidbits going back up here on the blog, including showing off my work space, and the first Indiana Geeking episode of 2018! I have also started on my first costume project of the year, with the hopes that it will be built by Indy PopCon! Speaking of Indy PopCon…
I already have my table paid off for this year's show. Once again, Geeking in Indiana and the Indiana Geeking Podcast will be set up in the Internet section on the show floor, and I'm hoping to do a bit more this year. I've already reached out to one of our local artists about a new pin design or two for this year, and I'm starting to look into a pre-show fundraiser for EARPS, kind of in the vein of the Tony's Metal Bikini fundraiser from a few years ago. I'm not sure if I'm going to run the Awkward Twitter Mingle again this year, although it's rather expected at this point, and I am hearing rumblings that there might be another panel that I might be sitting in on. So, my focus on the front half of the year is getting myself ready for Indy PopCon, while getting some quality readage (and cat pictures) on here for all of you!
Now, what's going on for Hoosier Geeks?
First, let's look at the rest of January!
January 27th: Little Guardian's Signing at Aw Yeah Muncie! Join Ed and Lee as they visit one of the best comic shops in Indiana, Aw Yeah Comics in Muncie! They'll be signing the release of Book 1: Trial by Spirit Fire, doing sketches and live art demos, and generally being awesome in an awesome shop!
Next up is February!
Now, let's look ahead to March!
Now, what's happening with the blog, the blogger, and friends of the blog?
This Week's Photo: It's back to pet pics! No cat requests this week, so instead it's the Geek Dog, Zoey the Pibble, looking slightly broken!
Who North America on YouTube! I recently received the following message from my friends over at Who North America in Camby: "We use our YouTube channel to raise additional funds for our museum. YouTube is changing the threshold required to earn money off our videos. We need a total of 1000 subscribers to meet that threshold." Well, they need bit of a push, so here I am, helping out a friend! Head on over to their YouTube page (link here) and give them a subscribe!
Support Geeking in Indiana: If you look to the right hand side, there is a support link for the blog. In this link, you'll find information on the following shops. This is how I can afford to order new merchandise, improve equipment, and cover convention fees! Help a Geek out, will ya?

MyMerch Shop! Where you can buy Geeking in Indiana t-shirts, hats, mugs, and more! Added bonus: MyMerch is a Hoosier company! #SupportLocal
Geeking Shop! This is where you find the merchandise I keep in stock at the Geek Cave. Pins, magnets, patches, and fidget spinners, while supplies last!
Affiliate Info! Amazon Affiliate Links, mainly, including gift idea affiliate posts.
Other sites! Paypal, Patreon, Ko-Fi, and more!

Do you like how the blog looks? Then check out Studio 27 Indy and TikiKitchen Design. I just write this stuff. They're the ones that make me look good. Also, check out the art page on TikiKitchen Design! There's some great stuff on there! It's TikiBitchin!
Have a great week, and I'll see you soon!
Tony