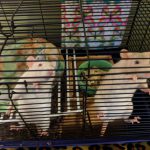 Happy last second to last day of January, my friends, and welcome to Tuesday Tidbits! I hope we're all having a fantastic week, or at least a week that isn't totally sucking! I've been working ahead on blog material, starting to look at packing needs for a cruise, and working in the Murder Basement on my first project of 2018, which I will discuss on Friday. In the meantime, we've got a lot of great stuff happening, as winter continues to be a thing here in Indiana, despite the occasional warm weather trying to lull us into a sense of complacency. February kicks off at the end of the week, and we've got a lot going on, with conventions, local Geeky events, and more!
Let's look at February!
Now, let's look ahead to March!
Now, what's happening with the blog, the blogger, and friends of the blog?
This Week's Photo: Rats! I have become "Treat Giver" in the eyes of Casey and April. This is how they now greet me when I walk near their cage.
Support Geeking in Indiana: If you look to the right hand side, there is a support link for the blog. In this link, you'll find information on the following shops. This is how I can afford to order new merchandise, improve equipment, and cover convention fees! Help a Geek out, will ya?

MyMerch Shop! Where you can buy Geeking in Indiana t-shirts, hats, mugs, and more! Added bonus: MyMerch is a Hoosier company! #SupportLocal
Geeking Shop! This is where you find the merchandise I keep in stock at the Geek Cave. Pins, magnets, patches, and fidget spinners, while supplies last!
Affiliate Info! Amazon Affiliate Links, mainly, including gift idea affiliate posts.
Other sites! Paypal, Patreon, Ko-Fi, and more!

Do you like how the blog looks? Then check out Studio 27 Indy and TikiKitchen Design. I just write this stuff. They're the ones that make me look good. Also, check out the art page on TikiKitchen Design! There's some great stuff on there! It's TikiBitchin!
Have a great week, and I'll see you soon!
Tony