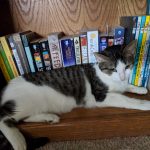 Happy Tuesday, my friends! We are back with another edition of Tuesday Tidbits! This week, rolling into the weekend, we have a couple of really cool things happening! First off, starting TOMORROW, we have a great, long gaming convention! No, not that one in the summer! This one is up in Fort Wayne! Winter Fantasy is happening! Also, on Saturday the 10th, Games Paradise will be hosting Knitting lessons! AND Ed and Lee will be at Hero House Comics with Little Guardians! Then, we have so much more great stuff coming up, like a new Shake Ups album, more conventions, book signings, and a free gaming convention!
And we're not even out of the first quarter of 2018, yet! So, let's buckle down, and see what we've got!
It's February!
Now, let's look ahead to March!
Now, what's happening with the blog, the blogger, and friends of the blog?
This Week's Photo: It's the cat that's never really on, because she's normally hiding! It's the Geek Cat's sister, London!
Support Geeking in Indiana: If you look to the right hand side, there is a support link for the blog. In this link, you'll find information on the following shops. This is how I can afford to order new merchandise, improve equipment, and cover convention fees! Help a Geek out, will ya?

MyMerch Shop! Where you can buy Geeking in Indiana t-shirts, hats, mugs, and more! Added bonus: MyMerch is a Hoosier company! #SupportLocal
Geeking Shop! This is where you find the merchandise I keep in stock at the Geek Cave. Pins, magnets, patches, and fidget spinners, while supplies last!
Affiliate Info! Amazon Affiliate Links, mainly, including gift idea affiliate posts.
Other sites! Paypal, Patreon, Ko-Fi, and more!

Do you like how the blog looks? Then check out Studio 27 Indy and TikiKitchen Design. I just write this stuff. They're the ones that make me look good. Also, check out the art page on TikiKitchen Design! There's some great stuff on there! It's TikiBitchin!
Have a great week, and I'll see you soon!
Tony