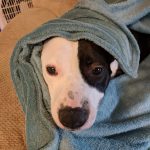 Happy Tuesday, my friends, readers, and people who somehow stumbled upon the blog while looking for information on the 75 new Star Wars films that Disney is trying to put out! Welcome to another installment of Tuesday Tidbits, the weekly post that looks at Geeky events happening around the Hoosier state! We have a lot of great things happening around Indiana, including a book signing by the awesome Dr. Christina Blanch on Saturday, a new album dropping by the Shake Ups next Saturday, and more! We have an embarrassment of Geeky riches here, my friends, and it's a crime to not take full advantage of it! So, let's take a look at what's happening, and get our calendars marked so we don't miss a minute of anything we might be wanting to check out!
We are almost halfway through February!
Now, let's look ahead to March!
Now, what's happening with the blog, the blogger, and friends of the blog?
This Week's Photo: It's Zoey, the Geek Pibble! The Geek Cave Office gets chilly, so sometimes the doggo gets wrapped up all nice and toasty warm.
JoCo Cruise 2018! Folks, on Friday, I'll be grabbing my flippy floppies and heading out to California to board the MS Oosterdam for the 2018 JoCo Cruise! Now, on this cruise, the internet is $0.75 a minute, so I will NOT be actively online from approximately Sunday the 18th to Sunday the 25th. I'm going to have all of the posts during that time scheduled, and hopefully WordPress works with me, because we'll be sharing a cabin with my WordPress developer and his wife! So, enjoy the content, and I'll see you on the 2nd of March!
Support Geeking in Indiana: If you look to the right hand side, there is a support link for the blog. In this link, you'll find information on the following shops. This is how I can afford to order new merchandise, improve equipment, and cover convention fees! Help a Geek out, will ya?

MyMerch Shop! Where you can buy Geeking in Indiana t-shirts, hats, mugs, and more! Added bonus: MyMerch is a Hoosier company! #SupportLocal
Geeking Shop! This is where you find the merchandise I keep in stock at the Geek Cave. Pins, magnets, patches, and fidget spinners, while supplies last!
Affiliate Info! Amazon Affiliate Links, mainly, including gift idea affiliate posts.
Other sites! Paypal, Patreon, Ko-Fi, and more!

Do you like how the blog looks? Then check out Studio 27 Indy and TikiKitchen Design. I just write this stuff. They're the ones that make me look good. Also, check out the art page on TikiKitchen Design! There's some great stuff on there! It's TikiBitchin!
Have a great week, and I'll see you soon!
Tony