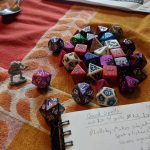 Happy Tuesday, my friends, readers, and people who are looking for an escape from fan outrage over whatever's got their fandom panties in a bunch this week (I'm looking at you, Star Wars fans!)! Here we are with another helping of Hoosier happenings, with Tuesday Tidbits! Down in Evansville, we've got a con happening, and up here in Indy, we have music and authors! Myself, though, will be at the Geek Cave, starting some spring cleaning, working on hobby projects, and generally trying not to go out and spend money, because I've been going through it like crazy lately, with the costume work, and I need to slow down a tad bit!
You know, after I buy the leg flares, the boots, the ejection harness, and finish paying off the flight suit and flare holder, but I digress.
So, everyone pull out your calendars, take a look at what's coming up, and get to marking events down! Plus, always remember, if you have an event you don't see on here, give me a shout so I can get you on there!
Now, let's look at the rest of March!
Then, on to April!
April 1st: INDYpendent Show! Back for another year, to help close out Who's Yer Con! Join this group of local creators (artists, authors, and more!) to get tips on how to hone your craft, pick up cool books and artwork, and more!
April 27th: Five Year Mission Year 4 Album Release! Five Year Mission, who provides a lot of the opening music to the Indiana Geeking podcast (thanks!), are releasing their new album tonight at the Melody Inn in Indianapolis. This is a 21+ show full of music about Star Trek, and you'll be able to pick up their new album!
April 29th: Ash Toy & Comic Show! I'm hearing rumors this is the next date for this long running toy and comic show, here in Indianapolis! Mark your calendars, just to play it safe! More info hopefully coming soon!
Now, what's happening with the blog, the blogger, and friends of the blog?
This Week's Photo: I have a bard. He does bard things. I also like dice. Dungeons and Dragons is fun!
The Brute: Chasing Shadows Kickstarter! This is a full color graphic novel from a team which includes local author and friend of the blog, Matthew Barron! Check it out before it ends on Friday!
Dagon's Bones Kickstarter! From local game maker Utility Games (LINK), Dagon's Bones is described as follows: "In the seaside pubs of Innsmouth they play a game of chance called Dagon's Bones. It's a dice game that requires luck, daring and maybe a small favor from the Elder Gods. Will you rob other players, steal from Cthulhu himself, or be granted, however fleetingly, Dagon's blessings?" Check it out before it ends the morning of April 20th!
Support Geeking in Indiana: If you look to the right hand side, there is a support link for the blog. In this link, you'll find information on the following shops. This is how I can afford to order new merchandise, improve equipment, and cover convention fees! Help a Geek out, will ya?

MyMerch Shop! Where you can buy Geeking in Indiana t-shirts, hats, mugs, and more! Added bonus: MyMerch is a Hoosier company! #SupportLocal
Geeking Shop! This is where you find the merchandise I keep in stock at the Geek Cave. Pins, magnets, patches, and fidget spinners, while supplies last!
Affiliate Info! Amazon Affiliate Links, mainly, including gift idea affiliate posts.
Other sites! Paypal, Patreon, Ko-Fi, and more!

Do you like how the blog looks? Then check out Studio 27 Indy and TikiKitchen Design. I just write this stuff. They're the ones that make me look good. Also, check out the art page on TikiKitchen Design! There's some great stuff on there! It's TikiBitchin!
Have a great week, and I'll see you soon!
Tony