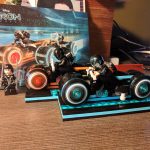 Happy Tuesday, my friends, readers, and people who just want to see what I come up with in this section! Here we are, with another installment of Tuesday Tidbits! We are now officially through the first quarter of 2018, and we are solidly into April, which currently does not have a lot happening! This is a great chance to take a breath, and start getting ready for all the stuff happening this summer, plus we still have good stuff like the new Five Year Mission album, the Ash show, and more!
Let's jump into the calendar, so I can get back at grinding away on my Resistance Pilot costume!
First, let's take a look at April!
April 21st: Introduction to Resin Casting! Hosted by Aris, this class at Incognito in Fountain Square talks mold making, casting, and even tinting and dying resin! Materials cost is $15, and you can get more info at the link!
April 27th: Five Year Mission Year 4 Album Release! Five Year Mission, who provides a lot of the opening music to the Indiana Geeking podcast (thanks!), are releasing their new album tonight at the Melody Inn in Indianapolis. This is a 21+ show full of music about Star Trek, and you'll be able to pick up their new album!
April 29th: Ash Toy & Comic Show! They are rumors, no more! The Ash show will be happening on the 29th at the Rodeway Inn here in Indianapolis! Click the link for details!
And what's happening in the month of May, besides racing?
Now, what's happening with the blog, the blogger, and friends of the blog?
This Week's Photo: Lego just released a Tron Legacy Ideas kit, and I had the opportunity to pick one up. This is delightful! Sure, I prefer the original film, but beggers can't be choosers!
Dagon's Bones Kickstarter! From local game maker Utility Games (LINK), Dagon's Bones is described as follows: "In the seaside pubs of Innsmouth they play a game of chance called Dagon's Bones. It's a dice game that requires luck, daring and maybe a small favor from the Elder Gods. Will you rob other players, steal from Cthulhu himself, or be granted, however fleetingly, Dagon's blessings?" Check it out before it ends the morning of April 20th!
Support Geeking in Indiana: In this link, you'll find information on the following shops. This is how I can afford to order new merchandise, improve equipment, and cover convention fees! Help a Geek out, will ya?

MyMerch Shop! Where you can buy Geeking in Indiana t-shirts, hats, mugs, and more! Added bonus: MyMerch is a Hoosier company! #SupportLocal
Geeking Shop! This is where you find the merchandise I keep in stock at the Geek Cave. Pins, magnets, patches, and fidget spinners, while supplies last!
Affiliate Info! Amazon Affiliate Links, mainly, including gift idea affiliate posts.
Other sites! Paypal, Patreon, Ko-Fi, and more!

Do you like how the blog looks? Then check out Studio 27 Indy and TikiKitchen Design. I just write this stuff. They're the ones that make me look good. Also, check out the art page on TikiKitchen Design! There's some great stuff on there! It's TikiBitchin!
Have a great week, and I'll see you soon!
Tony