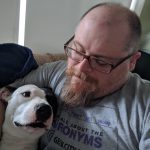 Welcome back to Tuesday Tidbits, your source for items of interest to Hoosier Geeks. This week, there's been a couple of events added for the month of April, if you're so inclined! Looking ahead, the next Tuesday Tidbits will start looking even further ahead to the month of June, which brings us to Indy PopCon, Days of the Dead, and more!
In the meantime, though, lets just look at the next few weeks, and work up to it!
Let's jump into the calendar!
First, let's take a look at April!
And what's happening in the month of May, besides racing?
Now, what's happening with the blog, the blogger, and friends of the blog?
Today's Picture: Skeptical Geek Dog is skeptical.
Dagon's Bones Kickstarter! From local game maker Utility Games (LINK), Dagon's Bones is described as follows: "In the seaside pubs of Innsmouth they play a game of chance called Dagon's Bones. It's a dice game that requires luck, daring and maybe a small favor from the Elder Gods. Will you rob other players, steal from Cthulhu himself, or be granted, however fleetingly, Dagon's blessings?" Check it out before it ends the morning of April 20th!
Young Puffin's Wonderfully Grand Mystery Kickstarter! This is a really unique pop-up book, that Friend of the Blog Mike Ficarra had a hand in designing! Take a look, and get on board before it closes on May 8th!
Pride Bird Charms Kickstarter! Acrylic bird charms, representing the different LGBTQ+ Pride flags! From a great artist who used to live in Indianapolis! I own some of G's work, and I know you want some of their work, too! So, check this out, before it flies away on May 9th!
Do you like how the blog looks? Then check out Studio 27 Indy and TikiKitchen Design. I just write this stuff. They're the ones that make me look good. Also, check out the art page on TikiKitchen Design! There's some great stuff on there! It's TikiBitchin!
Have a great week, and I'll see you soon!
Tony