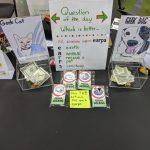 Happy Tuesday, Indiana Geeks! We now return you to your regularly scheduled Tuesday Tidbits, where we talk about all the cool things happening for Geeks in the state of Indiana! Indy PopCon 2018 is now behind us, though the sore joints from standing behind a table on a concrete floor live on! Because of this, I'm writing this later than usual, so I haven't had the opportunity to look for many updated events! Remember, if you ever have a Geeky event you'd like to be included on these posts, just reach out to me at HeadGeek@IndianaGeeking.com and I'll edit it in, and keep running it until the event has passed! Help me help you! I'll get your event in front of dozens of eyes! Dozens!!!
Now, though, let's jump into the calendar!
First, let's look at the rest of June!
Then, on to July!
Now, what's happening with the blog, the blogger, and friends of the blog?
Today's Picture: The most popular voting options from the PopCon table this past weekend at Indy PopCon!
Kickstarter – Treacherous!  The newest game from DNA Games just went live! This is a hidden identity game, for two to seven players, from a local game maker! Place your order before it's gone at the end of this week!
New Merch! Over on my My Merch site, I've added two new items! First, I've got an 11 oz. coffee mug, because people were commenting how empty the 15 oz. looked when used with a Keurig! Also, since it's currently 90 degrees out, I've got a Geeking in Indiana knit cap, which I'm hoping they'll let me wear at work because I'm right under an AC unit! Remember, when you buy through My Merch, not only are you getting cool Geeking items, you're also helping the blog, and you're supporting a local business!
Indy PopCon 2018! There will be a wrap-up post later this week, but it was a fun weekend! Panels, podcasts, friends, and money raised for EARPS!
Resistance Pilot Costume Updates! This week: Indy PopCon wrap-up and editing Podcast audio that's been sitting on my hard drive for the past few weeks. Next week, back to the costume!
Do you like how the blog looks? Then check out Studio 27 Indy and TikiKitchen Design. I just write this stuff. They're the ones that make me look good. Also, check out the art page on TikiKitchen Design! There's some great stuff on there! It's TikiBitchin!
Am I missing anything? Use one of those contact links to give me a shout! Have a great week, and I'll see you later!
Tony