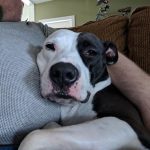 Happy Tuesday, my friends! It is time for this week's Tuesday Tidbits! I hope you all have been well since the last time we all got together here! I've had a rough go the past month, and I want to fill you all in really quick. First, the week after Indy PopCon, at 12:30 in the morning, somebody backed into the driver's side front of the Cardis, causing enough damage to total the vehicle. This shouldn't come as a surprise, as it was a thirteen year old vehicle, that had been in three other accidents leading up to this. This means that Lizz and I have been down to one car, and we're trying to redo our budget to pick a car payment back up. However, I have found a replacement Cardis, so be looking for pics of the new one in the next few weeks.
Next, on July 2nd, we were leaving a grocery store when we, once again, were in a hit and run. However, this time, it involved no car around us! Without giving too much information, a car was speeding through the lot, on the wrong side of the "road", running stop signs, and we were hit as we were pushing our groceries out to the car. Lizz has a broken leg, and I have a couple cracked ribs, soft tissue damage in my right knee, and we're both just banged up, both mentally and physically. I was off work and lost my holiday pay for last Wednesday, Thursday, and Friday, and Lizz is still off work indefinitely. Stairs have been difficult, as well, and since the Geek Cave HQ is upstairs, it means I haven't been able to write or get part two of the Magic: The Gathering episode up. So, thank you all for your patience with me, as we get through all of this, and get back on our feet.
Now, let's take a look at what's going on for Hoosier Geeks!
First, it's the rest of July!
July 14th: TeenCon 2018! This little library show in New Castle has a place in my heart because it's my home town! I will be there, talking blogging and podcasting with anyone that will listen.
July 21st: Art and Music at the Pawn Shop Pub! Featuring music by The Shake Ups, art by many local artists, and food from the Pawn Shop Pub, this family friendly event starts at 1PM!
July 22nd: The Not at San Diego Mini Con at Aw Yeah Comics! Not able to make it to SDCC? Check out this mini con at Aw Yeah Comics in Muncie! Visit the link for more details!
Heck, August is almost here! What's going on?
August 2nd – 5th: Gen Con! It's Gen Con. It's gaming. It's cosplayers. It's food trucks on Georgia Street. It's a great time for downtown Indy. And by the time this goes live, the four day passes might be sold out! Get on it!
August 4th: PRN Nerd Night with The Yavin 4, The Shake Ups, Nerdlesque! Geeky music and burlesque at the Mel! Check the link for more information!
August 18th: Fort Wayne Comic Book Convention! One day show at a Comfort Suites in Fort Wayne. Check the link for more information!
August 24th – 26th: Indy Fur Con! This year's theme is "Canadian Invasion", they're raising money for the Southside Animal Shelter, and EARPS will be in attendance! Get more information for this furry con at their website!
August 24th – 26th: Horrorhound Weekend! Moving up a few weeks, and across town to the JW Marriott in Indianapolis, Horrorhound Weekend returns with guests, Maskfest, and more!
August 25th: The Shake Ups Legendary Defenders Concert at Comic Carnival!
August 25th: Indy Disney Meet! Disney fans, rejoice! Here's a meet-up of like-minded folks, ready to Geek out on Disney stuff! This has been growing, year after year, and I've heard good things about it! Check it out!
August 26th: Indiana Toy & Comic Expo! This great single day toy show is back in Bloomington! With vendors, artist alley, contests for costumes and custom figures, and now with a podcaster alley! Needless to say, I will be there, in that alley! Click the link for more information!
Now, what's happening with the blog, the blogger, and friends of the blog?
Today's Picture: Zoey the Geek Dog, relaxing on me as we watch a movie. I think she's getting tired of selfies! (Recycled from last post. Sorry, it's been a harsh couple of weeks!)
New Merch! Over on my My Merch site, I've added two new items! First, I've got an 11 oz. coffee mug, because people were commenting how empty the 15 oz. looked when used with a Keurig! Also, since it's currently 90 degrees out, I've got a Geeking in Indiana knit cap, which I'm hoping they'll let me wear at work because I'm right under an AC unit! Remember, when you buy through My Merch, not only are you getting cool Geeking items, you're also helping the blog, and you're supporting a local business!
Blog Issue Warning: Over the course of the next month, there is going to be some work done on the website. There will be times that part of it become inaccessible, and pieces might move around a bit. This is completely my fault, as I've been so busy I've been pushing aside some updates that needed to be done by the end of June. Keep an eye on the social media accounts, as well as Tuesday Tidbits, for any known issues!
Do you like how the blog looks? Then check out Studio 27 Indy and TikiKitchen Design. I just write this stuff. They're the ones that make me look good. Also, check out the art page on TikiKitchen Design! There's some great stuff on there! It's TikiBitchin!
Am I missing anything? Use one of those contact links to give me a shout! Have a great week, and I'll see you later!
Tony