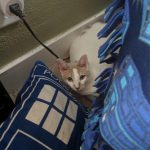 Happy Tuesday, my friends! We are back with another installment of Tuesday Tidbits, where I try to track down events that I think would be of interest to you, my fellow Geeks here in Indiana! Plus, hey, cute animal pictures!
First things first, while we've still got a week or so left of July, it seems that everyone is taking a deep breath before Gen Con hits in August. I know I am, as Lizz and I are trying to figure out how we're going to handle Gen Con as I'm healing, she's still immobile with one leg, and we have medical debt piling up. Still, it's very much a first-world problem, and we'll either get it figured out, or enjoy a few days at home.
For now, though, let's take a look at what's coming down the pike! August is a REALLY busy month, and September is shaping up to have quite a few things happening, as well!
First, August is almost here! What's going on?
September is right around the corner! What's happening then?
Now, what's happening with the blog, the blogger, and friends of the blog?
Today's Picture: The Geek Cat thought he was well hidden. He was mistaken.
Shocktober in Irvington 2018! It's not on the calendar yet, but I wanted to get word out now! Shocktober in Irvington is a one-night showing of short horror films, many of which are made locally. Hosted by the Obsessive Viewer Podcast, this event not only features movies, but interviews with the film makers, and horror-themed giveaways. It's held at Playhouse Productions in Irvington, and the proceeds from the event go towards the Irvington Historical Society. So, mark your calendars for October 12th, and get your tickets at the link above. In addition, use the code "GEEKING" at check out to save a dollar off your ticket! I'll see you there!
Feed a Blogger! I really was going to try to avoid this, but since Lizz hasn't been able to work for a week and a half, and I've been working shortened hours, we are already starting to hurt, financially. On top of that, the bills are starting to come in for medical costs, and they still haven't made any noticeable progress on arresting the woman who ran into us. So, if you could do me a favor, and take a look at one of the ways you could support the blog, in this case helping us out, I would greatly appreciate it. Buy merch, make a donation, whatever you'd like to do would be greatly appreciated.
Do you like how the blog looks? Then check out Studio 27 Indy and TikiKitchen Design. I just write this stuff. They're the ones that make me look good. Also, check out the art page on TikiKitchen Design! There's some great stuff on there! It's TikiBitchin!
Am I missing anything? Use one of those contact links to give me a shout! Have a great week, and I'll see you later!
Tony