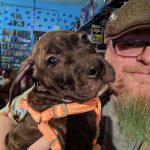 Happy Tuesday, my friends! We are back with another installment of Tuesday Tidbits, where I try to track down events that I think would be of interest to you, my fellow Geeks here in Indiana! Plus, hey, cute animal pictures!
I hope everyone has had a fantastic week! I know this is an off-week for Tuesday Tidbits, but I have ended up with about a half dozen new pieces of information that needed to go out, so I wanted to get something fresh and new up for you! Plus, the Indy Star Voting ends tomorrow, so I wanted to get that push out. PLUS, we have a new puppy, so I wanted to get those pictures out. PLUS, hey, Support a Blogger links! So, here I am!
However, for now, we need to move on to the calendar! So, what's going on?
First, August is here! What's going on?
September is right around the corner! What's happening then?
Now, what's happening with the blog, the blogger, and friends of the blog?
Today's Picture: May I present the newest member of the Geeking family, BB-8! BB-8 is a wee Pit Bull pup, and she's getting along famously with Zoey, the Geek Dog! She also hasn't eaten any comic books. Yet.
Kickstarters! It's been a bit since I've thrown some love to some local folks looking to crowdfund their projects. Let's look at a couple of them that some friends of the Blog are running!

Drop Out! This is a comic by Hoosier-based creator Courtney Hahn. To quote her page, it's a "story of a young woman disassociating from her previous life after dropping out of college." Get the details, and help back the book, at the link before it ends on September 10th!
Danger Magnet Presents: Legacy of Darkness! This is an adventure from some groovy folks up in Kokomo! It uses the Ubiquity system, and it's "a thrilling adventure set within the pulp-inspired imaginations of tabletop gamers the world over." Check it out, and if you dig it, jump on board before it ends on August 25th!

Indy Star's "Best Things Indianapolis" Voting! Whelp. I'm begging for votes again! This time, it's the Indy Star doing their "Best Things" voting. Now, through August 15th TOMORROW, you can vote in a ton of categories, and choose from a ton of different nominees. I'm not doing a huge list, here, but I have four votes I'd love if you could all do, daily. These are all under "Things you do and see" on the voting page, and this will be the order if you're scrolling down that list.

Best local band or musical artist in Indianapolis: The Shake Ups
Best local podcast in the Indianapolis area: Cult Cinema Cavalcade
Best local social media personality in Indianapolis: Geeking in Indiana
Best convention in Indianapolis: Indy PopCon

Shocktober in Irvington 2018! It's not on the calendar yet, but I wanted to get word out now! Shocktober in Irvington is a one-night showing of short horror films, many of which are made locally. Hosted by the Obsessive Viewer Podcast, this event not only features movies, but interviews with the film makers, and horror-themed giveaways. It's held at Playhouse Productions in Irvington, and the proceeds from the event go towards the Irvington Historical Society. So, mark your calendars for October 12th, and get your tickets at the link above. In addition, use the code "GEEKING" at check out to save a dollar off your ticket! I'll see you there!
Feed a Blogger! Are you looking to support the blog? Are you looking to help with medical bills? This link gets to to every place that you can help the blog, like buying through Amazon, buying Geeking merch, or even donating!
Do you like how the blog looks? Then check out Studio 27 Indy and TikiKitchen Design. I just write this stuff. They're the ones that make me look good. Also, check out the art page on TikiKitchen Design! There's some great stuff on there! It's TikiBitchin!
Am I missing anything? Use one of those contact links to give me a shout! Have a great week, and I'll see you later!
Tony