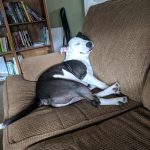 Happy Tuesday, my friends! We are back with another installment of Tuesday Tidbits, where I try to track down events that I think would be of interest to you, my fellow Geeks here in Indiana! Plus, hey, cute animal pictures!
I hope everyone's had a great week! We had a calm weekend in the Geek Cave, playing with the puppy, working on house breaking said puppy, cleaning carpets, cleaning carpets again, all while finishing the current seasons of Voltron and Duck Tales, and writing. This week is going to fly by, as we prepare to head down to Bloomington on Saturday, check out some shops, get our hotel room, and rest up for Indiana Toy and Comic Expo on Sunday, where I'll be in Podcaster Row with some great folks! This is looking to be a great time, but it's probably also going to be the final show for Geeking in 2018, so if you're wanting to see Lizz or I, this is your chance!
However, for now, we need to move on to the calendar! As it's getting towards the end of August, we're also starting to look towards October! So, what's going on?
First, August is here! What's going on?
September is right around the corner! What's happening then?
October is also a huge month for Geeks, capping off with Halloween! However, there's more than that happening!
Now, what's happening with the blog, the blogger, and friends of the blog?
Am I missing anything? Use one of those contact links to give me a shout! Have a great week, and I'll see you later!
Tony