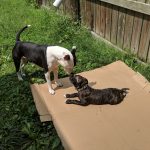 Happy Tuesday, my friends! We are back with another installment of Tuesday Tidbits, where I try to track down events that I think would be of interest to you, my fellow Geeks here in Indiana! Plus, hey, cute animal pictures!
I hope everyone had a fantastic weekend! Mine was fun, and very productive! We went to Bloomington on Saturday, to get to ITCE early, and had the opportunity to visit TWO new shops to add to the blog's Shop listing! Then, we had dinner then coffee with friends that we've never really had the chance to spend time with outside of conventions, and it was fantastic! Sunday was Indiana Toy and Comic, and I had SO MUCH FUN talking to friends, meeting new people, meeting awesome people I only know from online, and having the real podcasters look at me weird when I talk about "not being a real podcaster", but then pulling out equipment for them to use during their panel. I will have my thoughts up on this year's show soon, but in a nutshell? I think Billy and his crew have really built something cool, and fun, and moving it down to Bloomington is probably one of the smartest decisions they've made. I'm looking forward to watching this show grow next year!
However, for now, we need to move on to the calendar! We have less than a week left of August, so we're going to roll into September, and then October, both of which have new events added since last week! So, what's going on?
September is starting on Saturday! What's happening then?
October is also a huge month for Geeks, capping off with Halloween! However, there's more than that happening!
Now, what's happening with the blog, the blogger, and friends of the blog?
Today's Picture: The Geek Dog and the Geek Pup are getting along famously, in case anyone was curious. Watching these two play is just a trip.
A Geeking in Indiana… FEZ? Well, the voting is over, and out of 24 people, it seems we have 6 folks that would be interested. Even with one for Aric, and one for me, that's only half of the amount we would need for the minimum. However, I'm going to reach out to Aric and Jason about seeing if we can get a mock-up, and a price, and then I'm going to put it back out there. Watch this space!
Appearances! With ITCE wrapped up, Lizz and I are probably going to be laying pretty low for the remainder of 2018. We need to get bills in check, work on some projects around the Geek Cave, and focus more on where we want Geeking to go over the rest of the year, and moving forward to 2019. I can tell you I will be at Shocktober in Irvington (see above for info) and at KokomoCon with Star Wars Indiana in my new costume, but otherwise? Sticking around the house, writing, fixing things, learning how to sew, and learning the 3D Printer.
Kickstarters! It's been a bit since I've thrown some love to some local folks looking to crowdfund their projects. Let's look at a couple of them that some friends of the Blog are running!

Drop Out! This is a comic by Hoosier-based creator Courtney Hahn. To quote her page, it's a "story of a young woman disassociating from her previous life after dropping out of college." Get the details, and help back the book, at the link before it ends on September 10th!

Feed a Blogger! Are you looking to support the blog? Are you looking to help with medical bills? This link gets to to every place that you can help the blog, like buying through Amazon, buying Geeking merch, or even donating!
Do you like how the blog looks? Then check out Studio 27 Indy and TikiKitchen Design. I just write this stuff. They're the ones that make me look good. Also, check out the art page on TikiKitchen Design! There's some great stuff on there! It's TikiBitchin!
Am I missing anything? Use one of those contact links to give me a shout! Have a great week, and I'll see you later!
Tony