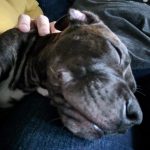 Happy Tuesday, my friends! We are back with another installment of Tuesday Tidbits, where I try to track down events that I think would be of interest to you, my fellow Geeks here in Indiana! Plus, hey, cute animal pictures!
It's been a long few weeks for Team Geeking. This term looks to be the hardest yet for Grant, so I have a feeling that we won't be seeing much of him this fall, as he works on finishing his degree. Lizz and I have been busy trying to catch up with everything that's fallen to the wayside since our accident, like house cleaning, yard maintenance, and personal relationships. Plus, I'm still sore, so the content has been minimal, still. I apologize, but after sitting at a computer for 9 hours a day, I don't want to go home and sit over one for a few more hours. Instead, I'm leaning back on the couch, trying to catch up on the DC CW shows on Netflix!
However, we do like to get out of the house every now and then, so lets see what we can do when we pile into the Cardis and get out of our neighborhood!
September is here! What's happening?
October is also a huge month for Geeks, capping off with Halloween! However, there's more than that happening!
Now, what's happening with the blog, the blogger, and friends of the blog?
Today's Picture: The Geek Pup is exhausted. I feel ya, pup. I feel ya.
Appearances! With ITCE wrapped up, Lizz and I are probably going to be laying pretty low for the remainder of 2018. We need to get bills in check, work on some projects around the Geek Cave, and focus more on where we want Geeking to go over the rest of the year, and moving forward to 2019. I can tell you I will be at Shocktober in Irvington (see above for info), I've put a table application in for DoctoberFest to once again share a spot with Rachel of The Five-ish Fangirls, and at KokomoCon with Star Wars Indiana in my new costume, but otherwise? Based on a conversation at the Starbase Indy shindig last Saturday, Geeking might have a presence there, but we're mainly sticking around the house, writing, fixing things, learning how to sew, and learning the 3D Printer.
Feed a Blogger! Are you looking to support the blog? Are you looking to help with medical bills? This link gets to to every place that you can help the blog, like buying through Amazon, buying Geeking merch, or even donating!
Do you like how the blog looks? Then check out Studio 27 Indy and TikiKitchen Design. I just write this stuff. They're the ones that make me look good. Also, check out the art page on TikiKitchen Design! There's some great stuff on there! It's TikiBitchin!
Am I missing anything? Use one of those contact links to give me a shout! Have a great week, and I'll see you later!
Tony