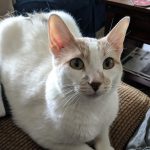 Happy Tuesday, my friends! We are back with another installment of Tuesday Tidbits, where I try to track down events that I think would be of interest to you, my fellow Geeks here in Indiana! Plus, hey, cute animal pictures!
I know, I've been trying to just do these every other week, but we've got some stuff that came up I wanted to add on here! If you scroll down to the bottom, after the October event listings, you'll find the link to this year's Nuvo "Best of Indy" nominations. There are a lot of friends of the blog on there, along with some other people who I just enjoy, and want to see come out ahead. I'm also on there, again, but I just don't have the energy to campaign this year, so do with that what you will, or look at my recommendation below. Instead, I'm throwing my energy into completing my Resistance Pilot costume, thanks to help from my friends in Star Wars Indiana, and wondering how long it takes for cracked ribs to heal.
Now, we do like to get out of the house every now and then, so lets see what we can do when we pile into the Cardis and get out of our neighborhood!
September is here! What's happening?
October is also a huge month for Geeks, capping off with Halloween! However, there's more than that happening!
Now, what's happening with the blog, the blogger, and friends of the blog?
Today's Picture: The Geek Cat is alive and well, and shedding. The pup was nowhere to be seen, so he spent some time with me last week, on the couch.
Nuvo's Best of Indy Voting! Running now through Midnight on September 30th, Nuvo's "Best of Indy" is, let's face it, an Internet Popularity Contest, and I want all of my friends to be popular! So, here are the categories I'm voting in, and who I'm voting for, that I would appreciate folks voting for as well! You can vote daily through the end date!

Arts + Entertainment

Best local visual artist – David Lee Pancake
Best local performing arts group – Angel Burlesque
Best local burlesque troupe – Angel Burlesque
Best local author – Hans Cummings
Best local film festival – Shocktober in Irvington

Music + Nightlife

Best overall artist/band – The Shake Ups
Best local pop – The Shake Ups
Best local punk/hardcore – Yavin 4

News + Views

Best local Twitter feed – I mean, I'm on here, but I'm going for @bgkahuna. Go as you will.
Best local Instagram account – Angel Burlesque
Best local amateur or collegiate sports team – Indy Lightsaber Academy

Shops + Services

Due to the nature of the blog, I'm not putting up any recommendations for shops. Just remember: Support local, and get the vote in for your favorite.

Appearances! With 2048 wrapping up, Lizz and I are probably going to be laying pretty low for the remainder of the year. We need to get bills in check, work on some projects around the Geek Cave, and focus more on where we want Geeking to go over the rest of the year, and moving forward to 2019. I can tell you I will be at Shocktober in Irvington (see above for info), I've put a table application in for DoctoberFest to once again share a spot with Rachel of The Five-ish Fangirls, and at KokomoCon with Star Wars Indiana in my new costume, but otherwise? Based on a conversation at the Starbase Indy shindig last Saturday, Geeking might have a presence there, but we're mainly sticking around the house, writing, fixing things, learning how to sew, and learning the 3D Printer.
Feed a Blogger! Are you looking to support the blog? Are you looking to help with medical bills? This link gets to to every place that you can help the blog, like buying through Amazon, buying Geeking merch, or even donating!
Do you like how the blog looks? Then check out Studio 27 Indy and TikiKitchen Design. I just write this stuff. They're the ones that make me look good. Also, check out the art page on TikiKitchen Design! There's some great stuff on there! It's TikiBitchin!
Am I missing anything? Use one of those contact links to give me a shout! Have a great week, and I'll see you later!
Tony