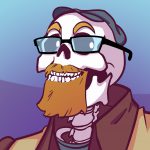 Happy Tuesday, my friends! We are back with another installment of Tuesday Tidbits, where I try to track down events that I think would be of interest to you, my fellow Geeks here in Indiana! Plus, hey, cute animal pictures!
We are now into October, the month loved by those who yearn for all things spooky. It's time for horror-themed podcast episodes, dusting off old costumes for parties, and so much pumpkin spice and candy corn stuff, accompanied by the hate from those people who don't like other people enjoying things. I'm looking forward to a lot of great things this month, like the Flashback Friday in just a few days, Shocktober in Irvington, Kokomo-Con, the Halloween Tribute Bash, and Doctoberfest because first, they're all going to be a great time, and second, it's going to be the final things the blog really participates in this year! I have too much going on around the Geek Cave, plus I just need to slow down even more because I keep getting reminded that I've been hit by a car, and I haven't taken care of myself. I mean, seriously, that was three months ago! It's not like we're still waiting to hear from IMPD that they've caught the person who hit us…
Anyway.
So, let's move on to what's happening for Hoosier Geeks!
October is also a huge month for Geeks, capping off with Halloween!
November is creeping up, as well, with a a bit of things happening outside of Thanksgiving!
November 4th: Thanks4Giving 2018! Hosted by Who's Yer Gamers, this is a one day gaming event at the Indianapolis Wyndham West! Running from 9:00 AM to 9:00 PM, the game library will be open for the small cost of either $10, or at least two non-perishable food items. All food and donations will go to Gleaner's Food Bank!
November 16th: Geek Rock Night! Held at the Melody Inn in Indianapolis, this show is a CD Release by local group Robots and Magic Powers, and will also feature New York-based The Fantastic Plastics, and friends of the blog The Shake Ups! Remember: The Melody Inn is a 21 and older venue, and cash is required!
November 23rd – 25th: Starbase Indy! You spent Thanksgiving dodging your family's political discussions, so reward yourself with a weekend hanging with your Geek family! Starbase Indy is a great mix of science fiction and STEM, with a guest list to match. Check out the website for all the details, and go ahead and reserve a room, as well, so you can enjoy the room parties after hours!
Now, what's happening with the blog, the blogger, and friends of the blog?
Today's Picture: Switching up a bit, since it's now October. This is "Bony Troxell" done by my friend Lee Cherolis! He does fantastic custom avatars, ON TOP OF playing with The Shake Ups and drawing Little Guardians!
Appearances! I need to rest. This month, I'll be at KokomoCon with the Star Wars folks, and then I'll be sharing a booth space with Rachel from The Five-ish Fangirls at Doctoberfest. After that? I need to focus on myself, and my family, for the rest of 2018.
Feed a Blogger! Are you looking to support the blog? Are you looking to help with medical bills? This link gets to to every place that you can help the blog, like buying through Amazon, buying Geeking merch, or even donating!
Do you like how the blog looks? Then check out Studio 27 Indy and TikiKitchen Design. I just write this stuff. They're the ones that make me look good. Also, check out the art page on TikiKitchen Design! There's some great stuff on there! It's TikiBitchin!
Am I missing anything? Use one of those contact links to give me a shout! Have a great week, and I'll see you later!
Tony