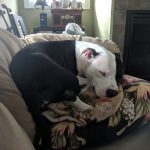 Happy Tuesday, my friends! We are back with another installment of Tuesday Tidbits, where I try to track down events that I think would be of interest to you, my fellow Geeks here in Indiana! Plus, hey, cute animal pictures!
Wow, a lot can happen in a week! First, the Teen Writing Workshop on the 20th has been cancelled, due to low registration numbers, so it's been removed from the event listings. Next, due to "lower than expected ticket volume", I have been released by my job. Okay, fired. Either way, I have no current income, and a powerful need to provide insurance and support for the Geekling. As I'm looking for a new job, I'll be firing the blog back up since, well, the main reason I've been so lax is because of the hours my former job had me working! If you would like to throw in any assistance during this time, where we are STILL dealing with medical expenses, and a car payment, then please, take a look at the "Feed a Blogger" section at the bottom of the post, or over there on the sidebar (desktop), or down there under the post (mobile).
Buy my stuff. Please.
Let's move on to what's happening for Hoosier Geeks!
October is a huge month for Geeks, capping off with Halloween!
November is creeping up, as well, with a a bit of things happening outside of Thanksgiving!
Now, what's happening with the blog, the blogger, and friends of the blog?
Today's Picture: Sweet, sleepy Geek Dog, perched on blankets and a pillow.
Kickstarters! These are items that I don't necessarily endorse, but think my readers might be interested in!

Terminal #3 & #4! This pulp anthology series has people from all over working on it, and the rewards include work from local Troy Brownfield! Take a look, and support it before it ends on November 2nd!

Feed a Blogger! Are you looking to support the blog? Are you looking to help with medical bills? Do you want to help me pay rent? This link gets to to every place that you can help the blog, like buying through Amazon, buying Geeking merch, or even donating!
Do you like how the blog looks? Then check out Studio 27 Indy and TikiKitchen Design. I just write this stuff. They're the ones that make me look good. Also, check out the art page on TikiKitchen Design! There's some great stuff on there! It's TikiBitchin!
Am I missing anything? Use one of those contact links to give me a shout! Have a great week, and I'll see you later!
Tony