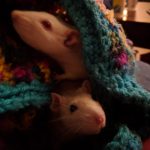 Happy Tuesday, my friends! We are back with another installment of Tuesday Tidbits, where I try to track down events that I think would be of interest to you, my fellow Geeks here in Indiana! Plus, hey, cute animal pictures!
I hope everyone had a good October! I know mine was filled with some definite ups and downs. As you might have seen, I've lost my job, and I've had little luck finding something similar to fill the gap. On the up side, I had a fantastic time at Shocktober in Irvington a few weeks ago, the Shake Ups show where they covered They Might Be Giants was fantastic (way to go!), and it didn't take hours to thaw out from Doctoberfest this year! Added Doctoberfest bonus: I sold a couple of Geek Pet Pins, so I'm able to make another small donation to EARPS!
Now, tomorrow is Halloween, and the end of October. That means it's time for this series to move ahead and cover November and December, and by extension, the remainder of 2018! It has been a heck of a year, hasn't it? December is interested because normally, I have a few sales, or craft shows, to talk about, but this year we have a couple of cons! Plus, scroll down to check out the Kickstarts, and look at information on how you can help Lizz and I pay bills until I find a job that'll cover them!
Let's move on to what's happening for Hoosier Geeks!
November is creeping up, as well, with a a bit of things happening outside of Thanksgiving!
December is traditionally a slow month, due to the plethora of holidays, but 2018 is changing all of that!
December 16th: The LaffyCon Before Christmas! This will be a one-day show, so you can visit local creators and find that perfect item for your friends in time for most holiday celebrations!
December 29th & 30th: PopCon Fort Wayne! You survived the holiday season with your family! Reward yourself with a trip to Fort Wayne for PopCon's foray into a non-Indianapolis show!
Now, what's happening with the blog, the blogger, and friends of the blog?
Am I missing anything? Use one of those contact links to give me a shout! Have a great week, and I'll see you later!
Tony