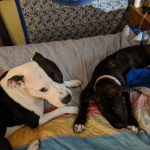 Happy Tuesday, my friends! We are back with another installment of Tuesday Tidbits, where I try to track down events that I think would be of interest to you, my fellow Geeks here in Indiana! Plus, hey, cute animal pictures!
I'm sorry this didn't go up earlier, but I had some stuff come up, so it's running a bit late. Which is funny, since I STILL haven't found a job yet, so you'd think I would have all the time in the world! Yet, here I am, trying to finally get this article written, while dealing with yet ANOTHER situation. They just won't stop! So, anyway, I'm just going to tell you all to enjoy your afternoon cup of coffee, mark your calendars for these upcoming events, and I'll see you all when this stuff calms down!
Let's move on to what's happening for Hoosier Geeks!
November is creeping up, as well, with a a bit of things happening outside of Thanksgiving!
November 16th: Geek Rock Night! Held at the Melody Inn in Indianapolis, this show is a CD Release by local group Robots and Magic Powers, and will also feature New York-based The Fantastic Plastics, and friends of the blog The Shake Ups! Remember: The Melody Inn is a 21 and older venue, and cash is required!
November 23rd – 25th: Starbase Indy! You spent Thanksgiving dodging your family's political discussions, so reward yourself with a weekend hanging with your Geek family! Starbase Indy is a great mix of science fiction and STEM, with a guest list to match. Check out the website for all the details, and go ahead and reserve a room, as well, so you can enjoy the room parties after hours!
December is traditionally a slow month, due to the plethora of holidays, but 2018 is changing all of that!
December 16th: The LaffyCon Before Christmas! This will be a one-day show, so you can visit local creators and find that perfect item for your friends in time for most holiday celebrations!
December 29th & 30th: PopCon Fort Wayne! You survived the holiday season with your family! Reward yourself with a trip to Fort Wayne for PopCon's foray into a non-Indianapolis show!
Now, what's happening with the blog, the blogger, and friends of the blog?
Today's Picture: It's not easy to get a pic of these two when they aren't at each other's throats. Most of the time, playing. Most of the time.
10,000 Dawns: Poor Man's Iliad: The newest book from local author James Wylder, this is an anthology with one novel, two novellas, eight novelettes, and thirty-three short stories! Weighing in at over 800 pages, this book features James' work, as well as work from other authors, all put together by James! Follow the Amazon Affiliate Link for information, and ordering!
Kickstarters! These are items that I don't necessarily endorse, but think my readers might be interested in!

Little Doodles Trade Paperback! Thrown together by my buddy, this trade collects part of his work. Wanna see what I think? Pick it up! I did the forward to it! Get in before it ends on Friday, November 30th!

Feed a Blogger! Are you looking to support the blog? Are you looking to help with medical bills? Do you want to help me pay rent? This link gets to to every place that you can help the blog, like buying through Amazon, buying Geeking merch, or even donating!

Ko-Fi (Immediate) – This enables you to "buy me a coffee" and the money immediately goes to PayPal. This can help with immediate bills!
Patreon (Long-Term) – This helps long-term, month-to-month. I can not stress this enough, my friends! If people just gave a dollar a month, each, that goes so bloody far for a creator like myself! So please, if you can, throw in here!
Amazon Affiliate (Long Term) – If you're shopping through Amazon, then please, feel free to use the Affiliate link! The money isn't immediate, because I have to hit a "cash out" amount, and then it takes a month or two for the money to become available, to make sure they aren't paying out and then someone returns a high-end item, but it helps boost the bank account!

Do you like how the blog looks? Then check out Studio 27 Indy and TikiKitchen Design. I just write this stuff. They're the ones that make me look good. Also, check out the art page on TikiKitchen Design! There's some great stuff on there! It's TikiBitchin!
Am I missing anything? Use one of those contact links to give me a shout! Have a great week, and I'll see you later!
Tony