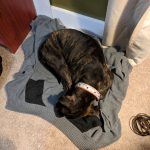 Happy Tuesday, my friends! We are back with another installment of Tuesday Tidbits, where I try to track down events that I think would be of interest to you, my fellow Geeks here in Indiana! Plus, hey, cute animal pictures!
So, I guess we're going back to weekly now on Tuesday Tidbits! I'm figuring, why not? We've always got some new event popping up, and since I'm starting to get other posts back up on the blog, Tuesday Tidbits aren't staying at the top of the page as long, so here we are! Well, 2018 is starting to wind down, and so are our events. As I said before, Geeking is done with "public" appearances for the year. We need to stick close to home, look at our budget, and start making plans for 2019 that hopefully won't get tossed aside due to random vehicles hitting random things in our lives, like our cars, ourselves, or the Geek Cave. Luckily, as I'm spending time at home, I'm finally at the point where I'm writing again. I've got blog posts mapped out through the next few weeks, and all with the exception of one that I'm kinda "iffy" on, they're all going to up, and good to go. These are going to include TWO new shop visits, the first I've done since October of last year! So keep your eyes on the blog, because I'm hoping that we're back in business!
Now, let's move on to what's happening for Hoosier Geeks!
November is creeping up, as well, with a a bit of things happening outside of Thanksgiving!
November 23rd – 25th: Starbase Indy! You spent Thanksgiving dodging your family's political discussions, so reward yourself with a weekend hanging with your Geek family! Starbase Indy is a great mix of science fiction and STEM, with a guest list to match. Check out the website for all the details, and go ahead and reserve a room, as well, so you can enjoy the room parties after hours!
November 24th: Small Business Saturday! Remember your Friendly Local Shops as you do your holiday shopping for the Geeks in your life! Bonus: Their lots aren't normally as packed as the lot of a mall, or a big box retailer! Click the link to see the shops listed here on the blog!
December is traditionally a slow month, due to the plethora of holidays, but 2018 is changing all of that!
December 12th: Little Guardians @ Comic Book University! It's New Comic Book Day at CBU, and it's the release of Little Guardian's Vol. 2! Come, get a copy, and get it signed by the local creators, Ed Cho and Lee Cherolis! They'll be there from 4:00 PM to 8:00 PM! These books make a great gift!
December 16th: The LaffyCon Before Christmas! This will be a one-day show, so you can visit local creators and find that perfect item for your friends in time for most holiday celebrations!
December 29th & 30th: PopCon Fort Wayne! You survived the holiday season with your family! Reward yourself with a trip to Fort Wayne for PopCon's foray into a non-Indianapolis show!
Now, what's happening with the blog, the blogger, and friends of the blog?
Today's Picture: Sometimes, the Geek Pup calms down, and she can be my work buddy. She stole my cardigan, but that's okay.
Kickstarters! These are items that I don't necessarily endorse, but think my readers might be interested in!

Cash & Carrie – Book Two! While this isn't necessarily a "local" Kickstarter, it looks fun, and it will feature work by local creators (and Trek Buddies!) Gin and Chris! Take a look, and help them get backed before it's over on the 27th!
Little Doodles Trade Paperback! Thrown together by my buddy, this trade collects part of his work. Wanna see what I think? Pick it up! I did the forward to it! Get in before it ends on Friday, November 30th!

Feed a Blogger! Are you looking to support the blog? Are you looking to help with medical bills? Do you want to help me pay rent? This link gets to to every place that you can help the blog, like buying through Amazon, buying Geeking merch, or even donating!

Ko-Fi (Immediate) – This enables you to "buy me a coffee" and the money immediately goes to PayPal. This can help with immediate bills!
Patreon (Long-Term) – This helps long-term, month-to-month. I can not stress this enough, my friends! If people just gave a dollar a month, each, that goes so bloody far for a creator like myself! So please, if you can, throw in here!
Amazon Affiliate (Long Term) – If you're shopping through Amazon, then please, feel free to use the Affiliate link! The money isn't immediate, because I have to hit a "cash out" amount, and then it takes a month or two for the money to become available, to make sure they aren't paying out and then someone returns a high-end item, but it helps boost the bank account!

Do you like how the blog looks? Then check out Studio 27 Indy and TikiKitchen Design. I just write this stuff. They're the ones that make me look good. Also, check out the art page on TikiKitchen Design! There's some great stuff on there! It's TikiBitchin!
Am I missing anything? Use one of those contact links to give me a shout! Have a great week, and I'll see you later!
Tony