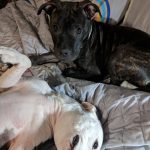 Happy Tuesday, my friends! We are back with another installment of Tuesday Tidbits, where I try to track down events that I think would be of interest to you, my fellow Geeks here in Indiana! Plus, hey, cute animal pictures!
Here we are in the final week of November, which means we have one month left in this year! Still, we have an event this week, and December still has some cool stuff happening, like PopCon Fort Wayne! In addition, this is your last week to back the Little Doodles Trade Paperback, with a foreward by yours truly, and it's the last day for the Cash & Carrie Kickstarter, which will feature work by local creators Chris & Gin!
On a personal note, please cross your fingers for me, because I had a second interview at a job I'd really like yesterday, and I'm hoping to hear back in the next few days! This will help with bills, but we can still use the help in getting ourselves pulled back up, so if you could keep helping with the Patreon, Ko-fi, and Amazon buying, that'd be fantastic!
Finally, a very happy birthday to the mother of the Head Geek! Some of you might have met her at some of the shindigs I've hosted, and today she's another year older! Happy birthday, Mom!
Now, let's move on to what's happening for Hoosier Geeks!
We still have an event in November!
November 29th: Holiday Gifts Book Fair! Kick off your holiday shopping by picking up books from local authors! This event will have a few of my friends in attendance, selling their books and providing readings. The event venue, the Propylaeum in Indianapolis, will also have a cash bar available. This looks like a great way to spend an evening!
December is traditionally a slow month, due to the plethora of holidays, but 2018 is changing all of that!
Now, what's happening with the blog, the blogger, and friends of the blog?
Today's Picture: The Geek Pup and the Geek Dog. BB is being very attentive, while Zoey is being very, well, Zoey.
Behind the Scenes: I'm working on the 2019 Con & Event Calendar, and I'm planning on having it up on Monday, December 3rd. I'm also going to start working on an overhaul of the actual site, and I have some ideas I'm going to bounce off Spencer to see if it's stuff that is feasible with the blog. In addition, Lizz and I are starting to work on our plans for 2019 for the blog, the podcast, and public appearances. I'd love to do some social events over the course of the year at local businesses like Who North America, Books & Brews, and others with space. It all just depends on what the "day job" situation looks like at the end of the year, but don't fear! We're not going anywhere!
Kickstarters! These are items that I don't necessarily endorse, but think my readers might be interested in!

Cash & Carrie – Book Two! While this isn't necessarily a "local" Kickstarter, it looks fun, and it will feature work by local creators (and Trek Buddies!) Gin and Chris! Take a look, and help them get backed before it's over tonight!
Little Doodles Trade Paperback! Thrown together by my buddy, this trade collects part of his work. Wanna see what I think? Pick it up! I did the forward to it! Get in before it ends on Friday, November 30th!

Feed a Blogger! Are you looking to support the blog? Are you looking to help with medical bills? Do you want to help me pay rent? This link gets to to every place that you can help the blog, like buying through Amazon, buying Geeking merch, or even donating!

Ko-Fi (Immediate) – This enables you to "buy me a coffee" and the money immediately goes to PayPal. This can help with immediate bills!
Patreon (Long-Term) – This helps long-term, month-to-month. I can not stress this enough, my friends! If people just gave a dollar a month, each, that goes so bloody far for a creator like myself! So please, if you can, throw in here!
Amazon Affiliate (Long Term) – If you're shopping through Amazon, then please, feel free to use the Affiliate link! The money isn't immediate, because I have to hit a "cash out" amount, and then it takes a month or two for the money to become available, to make sure they aren't paying out and then someone returns a high-end item, but it helps boost the bank account!

Do you like how the blog looks? Then check out Studio 27 Indy and TikiKitchen Design. I just write this stuff. They're the ones that make me look good. Also, check out the art page on TikiKitchen Design! There's some great stuff on there! It's TikiBitchin!
Am I missing anything? Use one of those contact links to give me a shout! Have a great week, and I'll see you later!
Tony