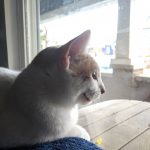 Happy Tuesday, my friends! We are back with another installment of Tuesday Tidbits, where I try to track down events that I think would be of interest to you, my fellow Geeks here in Indiana! Plus, hey, cute animal pictures!
I hope everyone had a fantastic weekend! We stuck pretty close to home, because funds are tighter than tight (see the Feed a Blogger info at the bottom of the page? Check it out!), but I DID receive some good news! Starting yesterday, I'm the new Social Media manager for a local company. If you follow me on Twitter or Facebook, you've seen the announcement, and I'm really excited! An added bonus about the job is that it's very flexible, and will allow me to focus more on Geeking in Indiana over the next year! So, you're not getting rid of us any time soon!
Now, let's move on to what's happening for Hoosier Geeks!
December is traditionally a slow month, due to the plethora of holidays, but 2018 is changing all of that!
Now, what's happening with the blog, the blogger, and friends of the blog?
Today's Picture: The Geek Cat, chirping at some birds on the front porch.
Behind the Scenes: Plans for 2019 have started! We are still in the VERY EARLY stages of planning, but we are looking at the return of the podcast in a monthly format, more shop visits, and maybe some more! We shall see! Plus, the 2019 Convention List is up! Check it out here, on the sidebar on your desktop, or at the bottom of the page on mobile!
Feed a Blogger! Are you looking to support the blog? Are you looking to help with medical bills? Do you want to help me pay rent? This link gets to to every place that you can help the blog, like buying through Amazon, buying Geeking merch, or even donating!

Ko-Fi (Immediate) – This enables you to "buy me a coffee" and the money immediately goes to PayPal. This can help with immediate bills!
Patreon (Long-Term) – This helps long-term, month-to-month. I can not stress this enough, my friends! If people just gave a dollar a month, each, that goes so bloody far for a creator like myself! So please, if you can, throw in here!
Amazon Affiliate (Long Term) – If you're shopping through Amazon, then please, feel free to use the Affiliate link! The money isn't immediate, because I have to hit a "cash out" amount, and then it takes a month or two for the money to become available, to make sure they aren't paying out and then someone returns a high-end item, but it helps boost the bank account!

Do you like how the blog looks? Then check out Studio 27 Indy and TikiKitchen Design. I just write this stuff. They're the ones that make me look good. Also, check out the art page on TikiKitchen Design! There's some great stuff on there! It's TikiBitchin!
Am I missing anything? Use one of those contact links to give me a shout! Have a great week, and I'll see you later!
Tony