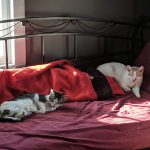 Happy Tuesday, my friends! We are back with another installment of Tuesday Tidbits, where I try to track down events that I think would be of interest to you, my fellow Geeks here in Indiana! Plus, hey, cute animal pictures!
I hope everybody is doing great! I know last week was a rough week for content, but as you can see, we're starting off strong this week, with a new shop visit up yesterday, and your favorite, dependable Tuesday Tidbits here today! Plus, I should have two more shop visits up by the end of the week! Anyway, over the weekend, we did some holiday shopping, saw Spider-Man: Into the Spider-Verse which was just fantastic, and I recorded the pilot to a possible new podcast for the Indiana Geeking feed, starting in early 2019! More info on that will be coming, if we like where we're going with it.
Now, let's move on to what's happening for Hoosier Geeks!
December is traditionally a slow month, due to the plethora of holidays, but 2018 is changing all of that!
December 21st: Zinester Solstice Party! Celebrate the Winter Solstice, and wrap up your shopping, at Irvington Vinyl & Books! They are hosting, in conjunction with Gluestick, a laid-back gathering of local 'zine makers. Look over locally created works, browse some vinyl records, and enjoy the atmosphere!
December 29th & 30th: PopCon Fort Wayne! You survived the holiday season with your family! Reward yourself with a trip to Fort Wayne for PopCon's foray into a non-Indianapolis show!
Now, let's look ahead to 2019!
January 9th: Prideland Collectibles Grand Opening! There is a section of Washington Square Mall that is a bit of a "Geek" section, which I'll talk about later this week, but for now, I want you all to know the newest comic & collectible shop will be having their grand opening on January 9th! More information will be coming before the day, but mark your calendars if you want to check it out!
January 30th: Michael Moreci @ Comic Carnival! Michael Moreci (Star Wars Adventures, Wasted Space) will be at Comic Carnival in Indianapolis from 11 AM to 6 PM, signing his books. This will be the same day Star Wars Adventures #18 and Wasted Space #6 releases!
Now, what's happening with the blog, the blogger, and friends of the blog?
Today's Picture: Dozing kitties, featuring the Geek Cat and the Elusive Cat.
Behind the Scenes: Shops are being visited, 2019 plans are being made, and contacts are being, well, contacted!
Feed a Blogger! Are you looking to support the blog? Are you looking to help with medical bills? Do you want to help me pay rent? This link gets to to every place that you can help the blog, like buying through Amazon, buying Geeking merch, or even donating!

Ko-Fi (Immediate) – This enables you to "buy me a coffee" and the money immediately goes to PayPal. This can help with immediate bills!
Patreon (Long-Term) – This helps long-term, month-to-month. I can not stress this enough, my friends! If people just gave a dollar a month, each, that goes so bloody far for a creator like myself! So please, if you can, throw in here!
Amazon Affiliate (Long Term) – If you're shopping through Amazon, then please, feel free to use the Affiliate link! The money isn't immediate, because I have to hit a "cash out" amount, and then it takes a month or two for the money to become available, to make sure they aren't paying out and then someone returns a high-end item, but it helps boost the bank account!

Do you like how the blog looks? Then check out Studio 27 Indy and TikiKitchen Design. I just write this stuff. They're the ones that make me look good. Also, check out the art page on TikiKitchen Design! There's some great stuff on there! It's TikiBitchin!
Am I missing anything? Use one of those contact links to give me a shout! Have a great week, and I'll see you later! Tony