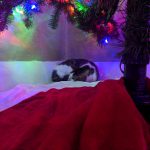 Happy Tuesday, my friends! We are back with another installment of Tuesday Tidbits, where I try to track down events that I think would be of interest to you, my fellow Geeks here in Indiana! Plus, hey, cute animal pictures!
First and foremost, Merry Christmas, everybody! I hope you're all having a fantastic day with your friends, or your family. To any readers who have to work, I hope your customers are being kind and gracious.  Whether or not you celebrate the holiday, I hope you're having a fantastic day.
For the remainder of the week, I'm going to be pretty quiet. I've got the week off from work, so I'm going to be splitting my time between a few projects, including doing some clean up on old blog posts, trying to figure out a few plug-ins that will help improve your experience on the blog, and finally, I want to work on a more static front page, where it's easy to find things like the shop reviews, convention calendar, and podcasts. Off the computer, I need to do some work around the house, and finish the helmet and harness for the Resistance Pilot costume. So, I'm not planning on being online much between now, and New Years.
One thing I'm kinda bummed about missing, though, is PopCon Fort Wayne, which is this coming weekend! I haven't followed the show much, knowing I couldn't do much to promote it, or even attend it, but I am really curious to see how it turns out! If you're going, have fun! If you're on the fence, just go!
Now, let's move on to what's happening for Hoosier Geeks!
We are down to the end of the month, but it still has something for us!
December 29th & 30th: PopCon Fort Wayne! You survived the holiday season with your family! Reward yourself with a trip to Fort Wayne for PopCon's foray into a non-Indianapolis show!
Now, let's look ahead to 2019, starting with January!
January 9th: Prideland Collectibles Grand Opening! There is a section of Washington Square Mall that is a bit of a "Geek" section, which I'll talk about later this week, but for now, I want you all to know the newest comic & collectible shop will be having their grand opening on January 9th! More information will be coming before the day, but mark your calendars if you want to check it out!
January 30th: Michael Moreci @ Comic Carnival! Michael Moreci (Star Wars Adventures, Wasted Space) will be at Comic Carnival in Indianapolis from 11 AM to 6 PM, signing his books. This will be the same day Star Wars Adventures #18 and Wasted Space #6 releases!
Heck, let's look at February, while we're at it!
Now, what's happening with the blog, the blogger, and friends of the blog?
Today's Picture: Merry Sleepy Christmas, from the Elusive Cat, who has made her home under the Geek Tree.
Behind the Scenes: Shops are being visited, 2019 plans are being made, and contacts are being, well, contacted!
Feed a Blogger! Are you looking to support the blog? Are you looking to help with medical bills? Do you want to help me pay rent? This link gets to to every place that you can help the blog, like buying through Amazon, buying Geeking merch, or even donating!

Ko-Fi (Immediate) – This enables you to "buy me a coffee" and the money immediately goes to PayPal. This can help with immediate bills!
Patreon (Long-Term) – This helps long-term, month-to-month. I can not stress this enough, my friends! If people just gave a dollar a month, each, that goes so bloody far for a creator like myself! So please, if you can, throw in here!
Amazon Affiliate (Long Term) – If you're shopping through Amazon, then please, feel free to use the Affiliate link! The money isn't immediate, because I have to hit a "cash out" amount, and then it takes a month or two for the money to become available, to make sure they aren't paying out and then someone returns a high-end item, but it helps boost the bank account!

Do you like how the blog looks? Then check out Studio 27 Indy and TikiKitchen Design. I just write this stuff. They're the ones that make me look good. Also, check out the art page on TikiKitchen Design! There's some great stuff on there! It's TikiBitchin!
Am I missing anything? Use one of those contact links to give me a shout! Have a great week, and I'll see you later! Tony