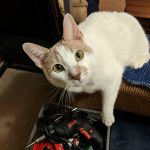 Happy Tuesday, my friends! We are back with another installment of Tuesday Tidbits, where I try to track down events that I think would be of interest to you, my fellow Geeks here in Indiana! Plus, hey, cute animal pictures!
We are halfway through January, and the blog has been a bit stagnant, I do admit. I will admit, January has been kicking my butt, with sickness and figuring stuff out for work. However, I'm really hoping to get some stuff out this week, including a podcast episode, a soapbox post, Patreon rework, all around a lot of audio editing. Yes, I currently have 4 podcast episodes, for two different podcasts, sitting in folders on my desktop. No, absolutely none of those files pertain to the original Indiana Geeking Podcast, but I'm working on that!
Now, let's move on to what's happening for Hoosier Geeks!
We are now in 2019! Let's look at this month!
January 25th: Five Year Mission @ The Melody Inn! Our very own Star Trek-themed rock band will be playing at the Melody Inn in Indianapolis this Friday night, along with The Leisure Kings, Palace, and another band to be announced! Remember: The Melody Inn is a 21+ venue, and is cash only!
January 30th: Michael Moreci @ Comic Carnival! Michael Moreci (Star Wars Adventures, Wasted Space) will be at Comic Carnival in Indianapolis from 11 AM to 6 PM, signing his books. This will be the same day Star Wars Adventures #18 and Wasted Space #6 releases! RESCHEDULED TO MARCH 6th, DUE TO PUBLISHER'S REQUEST. MORE INFO NEXT WEEK.
Heck, let's look at February, while we're at it!
Now, what's happening with the blog, the blogger, and friends of the blog?
Today's Picture: The Geek Can can't believe I'm sticking the camera in his face. Again.
Hoosier-based Crowdfunding: Here's where we take a look at crowdfunding campaigns by Hoosier creators!

Fancy Swears – This was brought to my attention by the Nerds Your're Looking For podcast on FB. It's just what the name says! Fancy swear words, in pin form! New swears will unlock, the more it earns! So, take a look before it ends on February 10th!

Where to find Indiana Geeking: I am fairly certain you know where to find me on social media, but there's a couple other websites I use fairly regularly, where you might want to keep an eye on me!

Letterboxd – I know I've mentioned this on more than one occasion, but just in case you weren't aware, here it is! Letterboxd is where I keep track of all the movies I watch, be it on television, Netflix, or at the theater. I have a goal for this year on there, and it's just a fun site for those who enjoy movies!
Goodreads – I've written about this on the blog before, but it's nice to have a reminder every once in a while. I'm making a concentrated effort to carve time out of my day to actually read a book, or listen to a book if it comes up at the library. This is where I keep track of them. So, if you're wondering what I'm reading? Here you go!

Feed a Blogger! Are you looking to support the blog? Podcast hosting fees are coming soo, and this link gets to to every place that you can help, like buying through Amazon, buying Geeking merch, or even donating!

Ko-Fi (Immediate) – This enables you to "buy me a coffee" and the money immediately goes to PayPal. This can help with immediate bills!
Patreon (Long-Term) – This helps long-term, month-to-month. I can not stress this enough, my friends! If people just gave a dollar a month, each, that goes so bloody far for a creator like myself! So please, if you can, throw in here!
Amazon Affiliate (Long Term) – If you're shopping through Amazon, then please, feel free to use the Affiliate link! The money isn't immediate, because I have to hit a "cash out" amount, and then it takes a month or two for the money to become available, to make sure they aren't paying out and then someone returns a high-end item, but it helps boost the bank account!

Do you like how the blog looks? Then check out Studio 27 Indy and TikiKitchen Design. I just write this stuff. They're the ones that make me look good. Also, check out the art page on TikiKitchen Design! There's some great stuff on there! It's TikiBitchin!
Am I missing anything? Use one of those contact links to give me a shout! Have a great week, and I'll see you later!
Tony