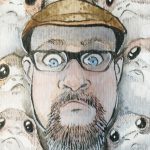 Happy Tuesday, my friends! We are back with another installment of Tuesday Tidbits, where I try to track down events that I think would be of interest to you, my fellow Geeks here in Indiana! Plus, hey, it's a new profile picture on Twitter (more information on that below)!
There's been a lot of things happening this last week! The Super Bowl showed us some trailers for movies and shows we've already seen footage from (Avengers Endgame, Captain Marvel), and got us psyched for things we've heard of, but haven't seen anything from yet (Hobbs & Shaw, Scary Stories to Tell in the Dark, The Twilight Zone). You can find all of those on YouTube, if you haven't seen them yet. PopCon Indy has been making guest announcements for their upcoming show in June, including John Wesley Shipp (The Flash), Natalia Cordova-Buckley (Agents of S.H.I.E.L.D., Coco), and Henry Simmons (Agents of S.H.I.E.L.D.)! Meanwhile, I'm up here in the Geek Cave office, frantically editing Friday's release of Social Sci-Fi, and trying to get all the last-minute pieces from Lizz. I'm just hoping my Southwest flight has WiFi, in case there are any problems!
Now, let's move on to what's happening for Hoosier Geeks!
February starts on Friday! Here's what's happening!
If I remember my calendar correctly, after February comes March!
Now, what's happening with the blog, the blogger, and friends of the blog?
Am I missing anything? Use one of those contact links to give me a shout! Have a great week, and I'll see you later!
Tony