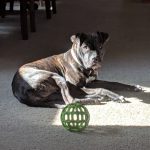 Happy Tuesday, my friends! We are back with another installment of Tuesday Tidbits, where I try to track down events that I think would be of interest to you, my fellow Geeks here in Indiana! Plus, hey, cute pet pics!
The intro this week is gonna be pretty short, because I spent most of the day on a plane, and most of my energy has gone into adding a few smaller shows, autograph signings, blog news, and all that. I've had a fantastic weekend with the Geekling, though, and also saw The Lego Movie 2: The Second Part, which was a lot of fun. That song does get stuck inside your head…
Anyway.
Let's move on to what's happening for Hoosier Geeks!
February starts on Friday! Here's what's happening!
If I remember my calendar correctly, after February comes March!
Now, what's happening with the blog, the blogger, and friends of the blog?
Today's Picture: The Geek Pup, who's almost as big as the Geek Dog at this point, enjoying a sun beam and wondering why I'm trying to get her attention.
Team Geeking Family of Podcasts: We've got two podcasts up and running! The first episodes of Social Sci-Fi and You're Gonna Love This… or Not are now up on the Podcast page, and the second episode of YGLToN will be up at the end of the week! Next up is either the Indiana Geeking Podcast, or another podcast with a group of friends that'll signal the end of the Indiana Geeking Podcast. Stay tuned…
Where to find Indiana Geeking: I am fairly certain you know where to find me on social media, but there's a couple other websites I use fairly regularly, where you might want to keep an eye on me!

Letterboxd – I know I've mentioned this on more than one occasion, but just in case you weren't aware, here it is! Letterboxd is where I keep track of all the movies I watch, be it on television, Netflix, or at the theater. I have a goal for this year on there, and it's just a fun site for those who enjoy movies!
Goodreads – Update on my reading progress: I'm reading a LOT of graphic novels on my Kindle, and those get added to my list.
Twitch – You know what? I'm really good at taking a joke too far. Starting this week, I'm going to start Twitch Streaming when I edit podcast audio for You're Gonna Love This… or Not, The Social Sci-Fi Podcast, and the Indiana Geeking Podcast. Will this be possibly the most boring stream ever? Probably, but dang it, why not? Feel free to subscribe, and watch Twitter for when I'm streaming. It'll probably be a weeknight, after 8 PM Eastern.

Feed a Blogger! Are you looking to support the blog? Did you see the post talking about the 2019 Blog Budget? Would you like to help us reach those goals? Here's how you can!

Ko-Fi (Immediate) – This enables you to "buy me a coffee" and the money immediately goes to PayPal. This can help with immediate bills!
Patreon (Long-Term) – This helps long-term, month-to-month. I can not stress this enough, my friends! If people just gave a dollar a month, each, that goes so bloody far for a creator like myself! So please, if you can, throw in here!
Amazon Affiliate (Long Term) – If you're shopping through Amazon, then please, feel free to use the Affiliate link! The money isn't immediate, because I have to hit a "cash out" amount, and then it takes a month or two for the money to become available, to make sure they aren't paying out and then someone returns a high-end item, but it helps boost the bank account!

Do you like how the blog looks? Then check out Studio 27 Indy and TikiKitchen Design. I just write this stuff. They're the ones that make me look good. Also, check out the art page on TikiKitchen Design! There's some great stuff on there! It's TikiBitchin!
Am I missing anything? Use one of those contact links to give me a shout! Have a great week, and I'll see you later!
Tony