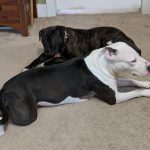 Happy Tuesday, my friends! We are back with another installment of Tuesday Tidbits, where I try to track down events that I think would be of interest to you, my fellow Geeks here in Indiana! Plus, hey, cute pet pics!
I hope everyone had a great weekend! It was a fun, full one for me, as we gathered to record YGLToN on Friday, then on Saturday I dropped by Comic Carnival to finally meet the incredibly awesome David Reddick face-to-face, then on Sunday I attended the Ash Comic Show, and then a miniature painting class, ran by my buddy Cliff Snyder! This week, I'm back to work and trying to edit my backlog of podcast episodes for YGLToN, so I can start focusing on the Indiana Geeking Podcast! I'm also starting to get my plans together to get back on the Friendly Local Shop Posts, as the weather starts getting better, so make sure you let me know about your favorite locally owned comic book, game, hobby, or toy store! I'd rather hear about a shop in Wabash three times, than not hear about a shop at all and totally miss them!
Now, moving on to the main event!
Let's move on to what's happening for Hoosier Geeks!
February starts on Friday! Here's what's happening!
If I remember my calendar correctly, after February comes March!
Now, what's happening with the blog, the blogger, and friends of the blog?
Today's Picture: The Geek Pup and the Geek Dog actually near each other, without any play fighting or growling.
Team Geeking Family of Podcasts: We have a steady stream of YGLToN Podcasts in the queue, we're recording the second episode of Social Sci-Fi on Saturday, and I'm still trying to find time for the Indiana Geeking Podcast. However, all is going well, and you should be able to find them on all of your favorite podcatchers, if not now, then soon! Thank you all for your support, I know the team loves it, and is in awe!
Where to find Indiana Geeking: I am fairly certain you know where to find me on social media, but there's a couple other websites I use fairly regularly, where you might want to keep an eye on me!

Letterboxd – I know I've mentioned this on more than one occasion, but just in case you weren't aware, here it is! Letterboxd is where I keep track of all the movies I watch, be it on television, Netflix, or at the theater. I have a goal for this year on there, and it's just a fun site for those who enjoy movies!
Goodreads – Update on my reading progress: I'm reading a LOT of graphic novels on my Kindle, and those get added to my list.
Twitch – After doing it for a week, I think I'm going to keep it up. A couple of nights a week, I'm going to stream my process on editing the Team Geeking Family of Podcasts. Now, in all honesty, this in and of itself is pretty boring. I've got a simple setup, with my webcam showing in one corner, and Audacity showing in the rest of the screen. Everything is silenced, so there are no spoilers for upcoming episodes. However, I've had a few people pop in and ask questions, and it looks like a great way to share the little bit I've learned about the process. So, if this interests you, subscribe to my stream, and keep an eye on Twitter for when I'll be recording!

Feed a Blogger! Are you looking to support the blog? Did you see the post talking about the 2019 Blog Budget? Would you like to help us reach those goals? Here's how you can!

Ko-Fi (Immediate) – This enables you to "buy me a coffee" and the money immediately goes to PayPal. This can help with immediate bills!
Patreon (Long-Term) – This helps long-term, month-to-month. I can not stress this enough, my friends! If people just gave a dollar a month, each, that goes so bloody far for a creator like myself! So please, if you can, throw in here!
Amazon Affiliate (Long Term) – If you're shopping through Amazon, then please, feel free to use the Affiliate link! The money isn't immediate, because I have to hit a "cash out" amount, and then it takes a month or two for the money to become available, to make sure they aren't paying out and then someone returns a high-end item, but it helps boost the bank account!

Do you like how the blog looks? Then check out Studio 27 Indy and TikiKitchen Design. I just write this stuff. They're the ones that make me look good. Also, check out the art page on TikiKitchen Design! There's some great stuff on there! It's TikiBitchin!
Am I missing anything? Use one of those contact links to give me a shout! Have a great week, and I'll see you later!
Tony