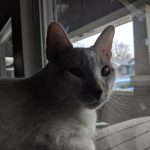 Happy Tuesday, my friends! We are back with another installment of Tuesday Tidbits, where I try to track down events that I think would be of interest to you, my fellow Geeks here in Indiana! Plus, hey, cute pet pics!
I hope everybody had a fantastic weekend! I know we were not without things to do, what with Who's Yer Con and EvilleCon happening here in Indiana, and C2E2 and the Lexington Comic and Toy Expo happening north and south of our state, respectively. Mainly, we stuck around the Geek Cave, getting some cleaning done, working ahead on the Social Sci-Fi podcast, and generally just not spending money on gas. This coming week, though, we're going to be pretty busy seeing friends, prepping content, and heading up to Goshen on Saturday for the Midwest RepRap Fest (see info below). Luckily, there is no podcast on Friday, so I might actually get some more writing done for the blog! Either that, or I'm going to work ahead on the podcasts, so I can have time to prep articles for upcoming conventions and events in the future. I'm still figuring out where I am. Anyway…
There are still things happening in March!
After March comes April, and even more events!
Let's look ahead to May!
Now, what's happening with the blog, the blogger, and friends of the blog?
Am I missing anything? Use one of those contact links to give me a shout! Have a great week, and I'll see you later!
Tony