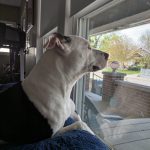 Happy Tuesday, my friends! We are back with another installment of Tuesday Tidbits, where I try to track down events that I think would be of interest to you, my fellow Geeks here in Indiana! Plus, cute Geek Pet pics!
I know it's been a few weeks, but I'm just swamped right now, with Star Wars Day and Free Comic Book Day happening this weekend, trying to wrap up a costume, family coming in from out of state, trying to keep up with work, and running outside to paint things in between raindrops. Luckily, this will only last until this weekend, and then things should lighten up a bit. In the meantime, I'm just going to go ahead and give you this week's Tuesday Tidbits, covering May and June.
So, what's happening for Hoosier Geeks?
May has raced in!
May 4th: Star Wars Day! There are going to be so many events, including events at the Children's Museum, with the Indianapolis Indians, and Naptown Roller Derby!
May 4th: Free Comic Book Day! This is a huge day for your friendly local comic shop! I should have a blog post out by Wednesday with information on the event, and links to some different shops' Facebook Events, talking about what they're doing!
May 10th: Wishes, Wands & Wine – Harry Potter Trivia Night! Friend of the blog KJ is helping another Make a Wish kid's wish come true! Join her at Blackhawk Winery & Vinyard in Sheridan for an evening of, dare I say, magic! Costumes are encouraged, you buy your ticket for your house, and there will be games and trivia as they all work together to send Isabelle to London! If you can't make it to the event, but still want to donate and show House pride, you can do that at this link!
May 18th: South Bend Comic Convention! This is a one day show held at the Comfort Suites. Check out the Facebook event page for more information!
May 19th: Pokemon Go Indianapolis Community Day! Are you still catching Pokemon on your cell phone? So am I, and a lot of other people! Join up with them at White River State Park in Indianapolis for a day of catching Pokemon!
May 23rd: The Head Geek's Birthday! I haven't done this in a few years, but that link is to my Amazon Wish List. I mean, why not? But seriously, if you want to get me something, I'm pushing for a new 3D Printer. so jump over to the Ko-Fi page, or get me an Amazon gift card, please!
What's happening in June?
Now, what's happening with the blog, the blogger, and friends of the blog?
Today's Picture: The Geek Dog is on her favorite perch, the back of the couch, watching for people to bark at.
Where to find Indiana Geeking: I am fairly certain you know where to find me on social media, but there's a couple other websites I use fairly regularly, where you might want to keep an eye on me!

Letterboxd – I know I've mentioned this on more than one occasion, but just in case you weren't aware, here it is! Letterboxd is where I keep track of all the movies I watch, be it on television, Netflix, or at the theater. Currently, I'm going through the MCU films.
Goodreads – Update on my reading progress: I'm reading a LOT of graphic novels on my Kindle, and those get added to my list.
Twitch – After doing it for a week, I think I'm going to keep it up. Once or twice a week, I'm going to stream my process on editing the Team Geeking Family of Podcasts. Now, in all honesty, this in and of itself is pretty boring. I've got a simple setup, with my webcam showing in one corner, and Audacity showing in the rest of the screen. Everything is silenced, so there are no spoilers for upcoming episodes. However, I've had a few people pop in and ask questions, and it looks like a great way to share the little bit I've learned about the process. So, if this interests you, subscribe to my stream, and keep an eye on Twitter for when I'll be recording!

Feed a Blogger! Are you looking to support the blog? Did you see the post talking about the 2019 Blog Budget? Would you like to help us reach those goals? Here's how you can!
Do you like how the blog looks? Then check out Studio 27 Indy and TikiKitchen Design. I just write this stuff. They're the ones that make me look good. Also, check out the art page on TikiKitchen Design! There's some great stuff on there! It's TikiBitchin!
Am I missing anything? Use one of those contact links to give me a shout! Have a great week, and I'll see you later!