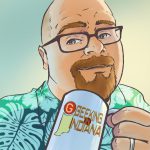 Happy Tuesday, my friends! We are back with another installment of Tuesday Tidbits, where I try to track down events that I think would be of interest to you, my fellow Geeks here in Indiana!
This last weekend was a pretty dang full one, with Star Wars events on Friday night and all day Saturday, work around the house on Sunday, and catching up with work on Monday while nursing my poor feet after being on them in snow boots both Friday night and all day Saturday! More information on that will be coming soon, after I get the next few podcasts edited and up. In addition, thanks to support from friends and family, I do have a new Creality Ender 3 Pro 3D Printer on its way to me. With podcast editing, D&D, a retirement party, Mother's Day, and all that coming up this weekend, I'm not sure when I'll be able to set it up, but I'll be back to learning about 3D Printing soon! Of course, that's also content I'm planning on putting on the blog!
So, what's happening for Hoosier Geeks?
May has raced in!
What's happening in June?
Now, what's happening with the blog, the blogger, and friends of the blog?
Am I missing anything? Use one of those contact links to give me a shout! Have a great week, and I'll see you later!