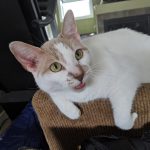 Happy Tuesday, my friends! We are back with another installment of Tuesday Tidbits, where I try to track down events that I think would be of interest to you, my fellow Geeks here in Indiana! Plus, cute Geek Pet pictures!
This weekend was actually a bit light on the "get out of the house" front. This doesn't mean it was slow, though! We got another episode of YGLToN in the can, we got work done around the Geek Cave, and I started editing the next episode of the Indiana Geeking Podcast, due on June 7th. We also did some repair work on my X-Wing Pilot gear, to prep it for weathering and another event in Anderson on Thursday. The costume is about 90% done, and I'll be writing about it soon, to tie up that loose end!
This coming weekend is going to be packed at the Geek Cave, with recordings for YGLToN, Indiana Geeking, and Social Sci-Fi happening. In addition, we'll be prepping for PopCon, which is the following weekend! The week of PopCon will be packed, but we'll touch on that a bit more next week. Just remember, next Tuesday night is the ABC RPG Networking event, which I'll be attending with some awesome TTRPG people!
So, what's happening for Hoosier Geeks?
On Saturday, June is here!
Let's also look ahead to July!
Now, what's happening with the blog, the blogger, and friends of the blog?
Today's Picture: Someday, I'll post a pic that's not the Geek Cat or the Geek Pup. Today is not that day, and the Geek Cat is getting kinda tired of it.
Buy a Geek an Accordion and Lessons: As of this writing, I have raised approximately $400 towards a used accordion on GoFundMe, and am expecting an addition $100 in an offline donation by the end of the week. I've done a withdraw from GoFundMe, and should have the money next week. Once I have everything in hand, I'll be going back to Arthur's to see what they have. I am keeping the GoFundMe up, though, for people who would like to help me get a jump on accordion lesson costs, until I figure out how to get it lumped in to my Patreon.
Feed a Blogger! Are you looking to support the blog? Did you see the post talking about the 2019 Blog Budget? Would you like to help us reach those goals? Here's how you can!
Do you like how the blog looks? Then check out Studio 27 Indy and TikiKitchen Design. I just write this stuff. They're the ones that make me look good. Also, check out the art page on TikiKitchen Design! There's some great stuff on there! It's TikiBitchin!
Am I missing anything? Use one of those contact links to give me a shout! Have a great week, and I'll see you later!