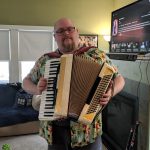 Happy Tuesday, my friends! We are back with another installment of Tuesday Tidbits, where I try to track down events that I think would be of interest to you, my fellow Geeks here in Indiana!
Oof, this is a WEEK coming up! Geek Week has started for PopCon Indy, with events happening around town until the con starts on Friday. Personally, I've got about 7 hours of audio work to do between now and Thursday night, so you all can have a Podcast on Friday. This is on top of hanging out at the ABC RPG Networking event tonight at Books & Brews, working extra hours early in the week so I can have Friday off without losing pay, and writing my annual "Things to Do" post for PopCon, letting you know where to find my friends on the con floor!
For those that are not aware, Geeking in Indiana will not have a booth at the con this year. To be honest, I'm still holding on to a ton of merch from previous years, and I really miss wandering the con floor. So, keep your eyes open for me, and I'll try to be fezzed up, at least on Saturday. Also, while it's not on here, don't forget the Awkward Twitter Mingle, to be held Saturday night at 7PM. This is an actual panel for PopCon, so you will need a ticket, but if you're attending the con, we hope we will see you there!
So, what's happening for Hoosier Geeks?
June is here!
Let's also look ahead to July!
Now, what's happening with the blog, the blogger, and friends of the blog?
Today's Picture: The internet bought me an accordion.
Buy a Geek an Accordion and Lessons: As of Saturday, June 1st (the start of Accordion Awareness Month), I am the proud owner of an accordion, purchased from Arthur's Music in Fountain Square! I'm going to start setting up lessons this week, and any additional money coming in will be put aside to pay for the $25 a week it'll take to learn the instrument!
Feed a Blogger! Are you looking to support the blog? Did you see the post talking about the 2019 Blog Budget? Would you like to help us reach those goals? Here's how you can!
Do you like how the blog looks? Then check out Studio 27 Indy and TikiKitchen Design. I just write this stuff. They're the ones that make me look good. Also, check out the art page on TikiKitchen Design! There's some great stuff on there! It's TikiBitchin!
Am I missing anything? Use one of those contact links to give me a shout! Have a great week, and I'll see you later!