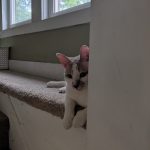 Happy Tuesday, my friends! We are back with another installment of Tuesday Tidbits, where I try to track down events that I think would be of interest to you, my fellow Geeks here in Indiana! Plus, cute pet pictures!
We're still solidly in the month of June, so we're still looking at June and July events. The good thing is, thanks to some searching and tips from readers, we have MORE events on here for this time period than we did last week! It's added value, or something! This weekend, there's a couple of great events happening, and if you celebrate it, don't forget Father's Day is Sunday the 16th!
Now, what's happening for Hoosier Geeks?
June is here!
Let's also look ahead to July!
Now, what's happening with the blog, the blogger, and friends of the blog?
Today's Picture: The Geek Cat concerns himself not with human issues, such as conventions or audio editing.
Feed a Blogger! Are you looking to support the blog? Do you want to help with accordion lessons? Here's how you can!
Do you like how the blog looks? Then check out Studio 27 Indy and TikiKitchen Design. I just write this stuff. They're the ones that make me look good. Also, check out the art page on TikiKitchen Design! There's some great stuff on there! It's TikiBitchin!
Am I missing anything? Use one of those contact links to give me a shout! Have a great week, and I'll see you later!