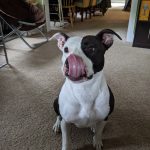 Happy Tuesday, my friends! We are back with another installment of Tuesday Tidbits, where I try to track down events that I think would be of interest to you, my fellow Geeks here in Indiana! Plus, cute pet pictures!
We're still solidly in the month of June, so we're still looking at June and July events. Next week, I'll start adding the month of August, which means Gen Con is coming! In the meantime, we've still got a lot of great stuff to look forward to! Well, YOU all do, as I'll be sticking close to the Geek Cave until the Shake Ups show on the 29th, only leaving to run errands, record YGLToN, and do my accordion lessons. Why? Just got a lot to do and work on around here! Still, it would be fun to go get trounced at Mass Hysteria over at Tappers next week…
Anyway, what's happening for Hoosier Geeks?
June is here!
Let's also look ahead to July!
Now, what's happening with the blog, the blogger, and friends of the blog?
Today's Picture: The Geek Dog can be both majestic, and goofy, at the same time. Best doggo.
Feed a Blogger! Are you looking to support the blog? Do you want to help with accordion lessons? Here's how you can!
Do you like how the blog looks? Then check out Studio 27 Indy and TikiKitchen Design. I just write this stuff. They're the ones that make me look good. Also, check out the art page on TikiKitchen Design! There's some great stuff on there! It's TikiBitchin!
Am I missing anything? Use one of those contact links to give me a shout! Have a great week, and I'll see you later!