Happy Tuesday, my friends!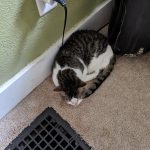 We are back with another installment of Tuesday Tidbits, where I try to track down events that I think would be of interest to you, my fellow Geeks here in Indiana! Plus, cute pet pictures!
July has begun, as has the summer temperatures! It's time to start looking at things happening inside, in the air conditions, at least as far as I'm concerned! Luckily, we have a lot of that going on, with both InConJunction and Days of the Dead this weekend, and DralaCon up in Fort Wayne next weekend! Plus, there's the release of Spider-Man: Far From Home this weekend, with the requisite screening of it with the Kinda Nerdy Girls Podcast and PopCon next Monday, inside the air conditioned Studio Movie Grill!
Make sure you read all the way down to the blog news section, for info on Extra Life, Geek Building, and blog fundraising!
Anyway, what's happening for Hoosier Geeks?
July is here!
August is next on the list!
August 1st – 4th: Gen Con! It's the Best Four Days in Gaming (trademarked)! Taking over the entire downtown area of Indianapolis, if you want to play it, it's probably there.
August 3rd: Harry Potter Day! The Indianapolis Art Center will be hosting a Harry Potter-themed community day, including a costume contest, trivia, and a bunch of other activities! A great option for a Geek who doesn't want to deal with the crowds around the Convention Center!
August 16th: Monster Mash at the Melody Inn! Head over to the Melody Inn for an evening of monster-themed music and burlesque, with The Shake Ups, Benny and the No-Goods, Team Void, and Nerdlesque! Ages 21 and over.
August 17th & 18th: BatCon! Fiberglass Freaks, makers of the licensed 1966 Batmobiles, are hosting another Batparty at the Logansport/Cass County Airport!
August 23rd – 25th: Indy Fur Con! Indy's own Furry Con is back for their tenth year, with a Hawaiian theme, and once again raising money for the Exotic Animal Rescue and Pet Sanctuary!
August 30th – September 1st: Indiana Comic Convention.
Now, what's happening with the blog, the blogger, and friends of the blog?
Today's Picture: I was able to grab a picture of London, the Elusive Cat! It's taken close to a year, but she's finally starting to be out in the open around the Geek Pup, and the pup's leaving her alone.
Geek Building! As I'm working on improving my building skills, finishing projects, and starting to learn how to use the equipment I have, I decided to expand my online presence even farther, by having a Facebook Page, an Instagram, and a Tumblr dedicated to what I'm doing. This is where I'll be cross-posting my blog posts, plus posting pictures and bits about what I'm doing that really aren't big enough for an entire blog post. So, feel free to let me fill your feeds at the following locations:
Extra Life! For many years now, I've helped promote friends doing Extra Life, the 24 hours of gaming charity for (usually) Riley Children's Hospital. This year, since I work with a bunch of Gamers, my co-workers and I are doing it ourselves! We're still planning our games, but I can guarantee we will be streaming. So, if you want to donate, and help kids, follow the link at the beginning of this bullet point to help us out!
Feed a Blogger! Are you looking to support the blog? Do you want to help with accordion lessons? Here's how you can!
Do you like how the blog looks? Then check out Studio 27 Indy and TikiKitchen Design. I just write this stuff. They're the ones that make me look good. Also, check out the art page on TikiKitchen Design! There's some great stuff on there! It's TikiBitchin!
Am I missing anything? Use one of those contact links to give me a shout! Have a great week, and I'll see you later!